Songwol selects Thies technology for terry towelling plant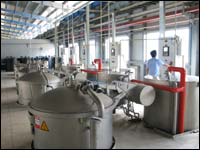 Songwol Co Ltd, South Korea's leading manufacturer of terry towelling products, has installed Thies fabric and yarn dyeing technology for its newly constructed plant near to Ho Chi Minh City in Vietnam.

The dyeing equipment, manufactured by Thies GmbH & Co in Germany and ordered through the company's distributor in Korea, C Illies & Co, was commissioned on April 1st of this year.

Songwol's investment in Vietnam, known as Songwol Vina, represents an important part of the company's strategy to expand beyond Korea and position itself as a major world supplier of the highest quality terry towelling, rebranding as Terry Gallery to enhance the international appeal of its products. "We have four production plants in Korea, where we have 35% of the domestic market for terry towelling, and where our Songwol brand has very wide recognition," says Mr Kim Woo Ram, President of Songwol Vina. "Terry Gallery is however a new name on the overseas markets, and it is our intention to become a world-famous brand name." Mr Kim Woo Ram also says that the company is targeting the US, Europe and Japan with Songwol Vina production.

Located at the newly established Tan Duc Industrial Park in Long An Province, about 1.5 hours by road from the centre of Ho Chi Minh City, Songwol Vina is capitalised at US$50 million and is 100 percent Korean-owned. There are five production units on the site, four of them for the sizing, weaving, dyeing and sewing of cotton towelling products, with the fifth for rayon.

Manager of the dying department, Mr Lee Byung Jin, says that the intention is to produce premium quality products - with 60 years experience in towel manufacturing, consequently the plant has been equipped with technology that is recognised as the best in its field; including Benninger preparing machines, Sulzer weaving machines, TSR drier machines, Schmaledurate hemming machines, and Thies dyeing machines."The intention has been to automate as far as possible the production process for maximum quality, reducing production time and minimising inferior goods and rejects," he says.

"Our company was founded 60 years ago, and this is the first time we have used Thies technology. For us it has always been our 'dream machine'. There is nothing else on the market to beat it. "Thies machines give us high temperature, high pressure and accurate colour, and by reducing the dyeing process time, we minimise damage and faulty production."

The Thies equipment is for the dying of both yarn and fabrics, with an initial capacity for yarn dyeing of 3,500 kg/day, and for fabric dyeing 10,000 kg/day. "When we are fully operational, the capacity for yarn dyeing will be 6,000 kg/day and for fabrics 30,000 kg/day," says Mr Lee. "For fabrics, our ultimate target is 11,000 tonnes per year."

For fabrics, there are five ecoMaster F short liquor fabric-dyeing machines with different capacities to cater for different production volumes: the 140/1–PL has a capacity of 250 kg, the two 140/2–PL units each have a capacity of 500 kg, and the two 140/3–PL units each have a capacity of 750 kg.