Economic times lead many to discover their entrepreneurial side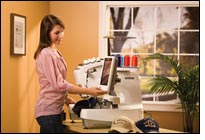 National news outlets have recently been reporting that entrepreneurial spirits are high despite a down economy. In today's economy, many people may be looking for another business opportunity or form of income, and as a result, they have started their own business. 'Accidental entrepreneur' is now a common term, and shows that many have unintentionally gone into business for themselves. Unintentional or not, Brother International Corporation has seen many successful customers starting their own businesses—home-based embroidery businesses, that is.

No matter what market or economic climate, there are potential customers for a home-based embroidery business. Potential customers are everywhere—from friends, family, churches and schools to local teams, and businesses. In fact, there have been so many success stories highlighting different locations and demographics that Brother has compiled many success stories that have educated and inspired other interested entrepreneurs.

"Brother dealers throughout the country have been holding informative 'Start Your Own Embroidery Business' seminars to educate their local community about the business potential that is possible with our machines, specifically the PR-600 series, which includes the newly introduced Entrepreneur PR-650," explains Dean F. Shulman, senior vice president of Brother International Corporation and head of the company's home appliance division. "It is important to note that these seminars are not promoting a franchise opportunity—but rather a product that provides the opportunity to start producing profitable items right away. A home-based embroidery business can be started with the Entrepreneur PR-650 for about $8,000; with monthly financing offers it is certainly an attainable and reasonable new business opportunity," Shulman stated.

The ability to create a variety of unique and profitable items for a multitude of different customers is possible with the new Entrepreneur™ PR-650, which was introduced by Brother in September of 2009. Since its introduction, the machine has been the star of the educational seminars that Brother dealers have been holding—and may be a worthwhile, profitable investment for start-up businesses, stay-at-home-moms and even schools looking to educate students about the skill and potential of customized embroidery.

"Start Your Own Embroidery Business" seminars include helpful hints about the Entrepreneur PR-650, as well as money-making tips and ideas such as using the machine to create unique, desirable items and how to calculate pricing and foster success. These events have not only helped the local dealer's business, but have also enlightened and encouraged community members throughout the nation to start their own affordable and flexible business.

The new, state-of-the-art Entrepreneur PR-650 is ideal for creating many different 'one-of-a-kind' projects, from personalized gifts, monogrammed or corporate apparel, to partnering with sports teams and community organizations or businesses. The six-needle single head embroidery machine incorporates all the user-friendly functions of a Brother home embroidery machine with the versatility, speed and professional finish of a commercial model. The right mix of advanced technology and easy-to-use features can enable an interested entrepreneur to learn the craft of embroidery.