Vicunha Têxtil - world's largest denim maker as of 2013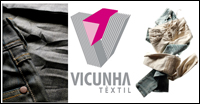 VICUNHA TEXTIL president Ricardo Steinbruch has confirmed that completion of the new plant in Cuiabà, capital of the Brazilian state of Mato Grosso, will make the Brazilian giant the largest maker of denim in the world.

The new plant, which begins production in 2013 after three years of construction, will process 65,000 tons of cotton a year to produce 72 million meters of denim, an increase in production capacity from the current 13 to 19 million meters a month.

Steinbruch says that the site was chosen on the basis of a new strategy in which future production sites will necessarily be located near their raw material resources. Mato Grosso is perfect for this; the region is Brazil's largest source of cotton. The site is intended as the starting signal for turning the area into a textile center in the long-term.

Plans are for an overall industrial area of 60 hectares in Cuiabà. The planned investment is around R$ 350 million (US$ 200 million), including construction, machinery, labor and working capital. The government has subsidized the new plant, with a view toward building up the thinly populated state by recreating the capital Cuiabà as an industrial area and providing jobs for the 500,000 inhabitants. Mato Grosso has only around 2.5 million inhabitants but an area of 903,386 square kilometres, making it one of the most thinly populated regions of Brazil with a population density of only 2.8 persons per square kilometre (2000).

Situation on the European Market
"The bargain-mentality phase is over!" emphasizes Thomas Dislich, CEO of VICUNHA EUROPE. "Although our volume business has reduced in conformity with the market, our sales and pricing policy have remained stable and healthy. We have been able to successfully hold on to our margin and our quality standards."

Also the idea of internationally acquiring additional custom qualities for special fashion items by relocating new production externally in Turkey, India and Pakistan has proven to be an excellent move. Dislich: "This way we are able to provide today a flexibility and a variety of products we could only have dreamed of a few years ago."

VICUNHA EUROPE is proving itself to be a strong, reliable and solid partner on both the European and the international level. Its size enables the denim giant to adjust and react to the needs of the markets. "As has always been the case, the ability to supply rapidly remains one of our strongest benefits. For instance only yesterday we received a call from a large vertical customer needing 1,500 meters for a fast custom production. The delivery truck is leaving Rotterdam with the goods today. Quick service is everything – especially in a time when labels must react quickly and ad hoc to rapidly emerging trends."

The market advantage of VICUNHA EUROPE
"We have noticed at present that many denim suppliers no longer retain the necessary inventory, due to the financial crisis and subsequent reductions in orders in 2009," Dislich adds. "Many have begun literally to live from hand to mouth." He considers this very reaction to be risky. Many competitors have trimmed back production and have not planned for proper inventory for the near future in the hope of saving costs, resulting in enormous difficulty in filling unplanned and spontaneous orders. "For VICUNHA this is a great advantage. We have not only the inventory, calculated in advance, but have also built up our reserves of raw materials. At the moment raw material prices are increasing enormously. We are not as badly affected, as we calculate our needs in advance and purchase accordingly."