E-auctioning of NTC land started in Mumbai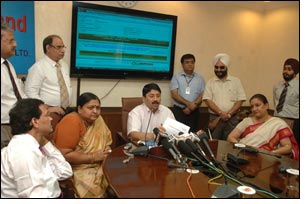 With an objective to bring transparency in the process of sale of land of the closed mills of the National Textile Corporation Ltd.,(NTC) Thiru. Dayanidhi Maran , Union Minister of Textiles, commenced the e-auctioning of the sale of land of NTC in Mumbai.

This is the first ever initiative for any Govt. Company to sell land by the e-auction process. The function was attended by Tmt. Panabaaka Lakshmi , Minister of State for Textiles, Tmt Rita Menon , Secretary Textiles, and senior officials of the NTC and the Ministry.

Complying with the directions of Thiru Dayanidhi Maran, the NTC initiated, last month, the process of selling the land through "e-auction process' under its revival scheme for sale of land of Poddar Textile Mills and Bharat Textile Mills in Mumbai.

Earlier, NTC had been resorting to only tender process for selling their immovable properties. The process of e-auctioning will be conducted by M/s e-Procurement Technologies Ltd., Ahmedabad on behalf of NTC.

Today, Thiru. Maran started the process of e-auctioning of Podar Mill (Process House) land facing Worli Sea Face at Mumbai, measuring 2.39 acres (9664.44 sq. mtrs.) by e-auctioning. The reserve price of the land has been fixed at Rs. 250 crore.

There are 8 bidders participating in the bidding process for the next 3 days from 29th to 31st July, 2010 (3 days) with auto extension as applicable after 5.00 PM on 31.07.2010.

1. M/s Indiabulls Infratech Limited, Mumbai.
2. M/s. National Building Construction Corpn., Ltd., New Delhi.
3. M/s. Kohinoor Duet, Mumbai.
4. M/s Peninsula Mega-City Development Pvt. Ltd., Mumbai.
5. M/s Celebration Developers Pvt. Ltd., Mumbai.
6. M/s Runwal Developers Pvt. Ltd., Mumbai.
7. M/s Lodha Ultimate Buildtech & Farms Pvt. Ltd., Mumbai.
8. M/s DB View Infracon Pvt. Ltd., Mumbai

This will be followed by e-auctioning of the next property at Mumbai, viz., Bharat Textile Mills, measuring 8.37 acres (33,938.83 sq. mtrs.). The reserve price of the property has been fixed at Rs. 750 crore.

This auction will be carried out on 4th, 5th and 6th August, 2010. For this auction, 7 interested parties have submitted the EMD. NTC is expecting to mobilize enough resources, well above the reserve price by these auctions for the implementation of its Revival Scheme.

1. D B View Infracon Pvt Ltd.
2. Indiabulls Infraestate Ltd.
3. Peninsula Realestate Magmt Pvt Ltd
4. Ahinsa Realtors Pvt Ltd. ( Tata )
5. Perspective Realty Pvt Ltd. ( Oberoi )
6. Videocon Realty & Infrs. Ltd.
7. Lodha Strucutre Developers Pvt Ltd.

NTC will declare its starting price which shall be visible to all the vendors during the start of the forward auction. Any bidder can start bidding, in the online forward auction, from the start price itself. The second online bid and onwards will have to be higher than the H1 rate by minimum one increment value or higher. The minimum bid increment amount has been fixed at Rs. 2 crore.