LNJ sets ball rolling with denim technical textiles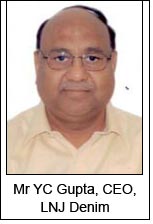 According to a research report commissioned by the government, the Indian technical textiles market which stood at Rs 417.56 billion in 2007-08 is projected to grow to Rs 701.51 billion by 2012-13, which means an annual growth of 11 percent. Experts are of the opinion that the burgeoning middle class will lead the demand growth for products made from technical textiles.

Fabrics made from technical textiles have varied applications and uses. The range extends from medical textiles, fire-fighting textiles, agri-textiles, anti-bacterial, anti-odour, dust-free and many more applications. The technical textile sector in India is still at a nascent stage in India and is far behind the stage reached in developed economies, but the future seems bright, mainly due to the rising cost of production in developed countries.

Technical textiles are used in consumer products like diapers, kitchen wipes, sportswear, home furnishings etc. The LNG Group is one such textile conglomerate which has diversified into technical textiles in a big way, by launching denim fabrics with different functional features like antibacterial and anti-odour denim, water, oil and dust repellent denim, hydrophilic denim and fire-retardant denim fabrics.

The economic downturn in 2008 and the resultant slowdown in demand in the domestic and more so in the international markets, has forced the Indian textile manufacturers to look towards other segments of the textile sector, other than traditional textiles, like technical textiles. A few brave hearts have done so and have brought out innovative functional fabrics for various applications. One such is LNJ Denim.

Speaking exclusive to fibre2fashion, Mr YC Gupta, Chief Executive of Denim Business at RSWM Ltd, which is a division of the LNJ Group said, "We have launched an exclusive range of technical textiles denims which incorporate various features. In the next three years, we are also planning to invest Rs 2 billion on research and development, to meet the ever increasing demand for technical textiles fabrics from consumers."

Giving details about the new product launches he said, "We have launched various denim fabrics with four different features.

1) Antibacterial and anti-odour denim -
These denim fabrics have 99 percent efficiency of killing bacteria and have been certified by the Govt Textile Research Association. It is also anti-odour, due to which bad smell of sweat etc., will not emanate from the fabric, even after repeated washes and during the entire life-time of the clothing.

Such denim will be extremely as uniform for workers in industries and also places of high humidity, which is ideal for development of bacteria, especially all areas near costal region. This also very useful for students and other people, who wish to avoid frequent washing of denim garments. It will also help save water resources as frequent washing may not be needed.