49th DORNBIRN-MFC to take place from Sept 15-17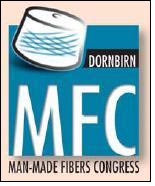 The 49th Dornbirn Man-Made Fibers Congress (Dornbirn-MFC) taking place from 15-17 September 2010.

Communicating the Textile Future

• Changing Paradigms become Innovators
• BIONICS as the Main Theme
• New: Expert Discussion with Audience
• Transportation (incl. Automobile) Strongly Represented
• Research with Market Relevance gains Importance

Changing Paradigms become Innovators

2010 will be the difficult way back into normal economy. We encounter a revolutionary change in our existing paradigms. Until now growth has been mainly linked to the cheap availability of fossil energy, whereas in our new global era economy and consumers will be faced with topics like environment, sustainability, careful use of resources and the development of the population. In future the Man-Made Fibers and Textile Industry as well their suppliers in the processing chain will be dominated by these factors, too.

Bionics as the Main Theme
The most sophisticated database in evolutionary know-how is stored in nature itself. Therefore the umbrella theme BIONICS can be found in many of the individual lectures of the 49th DORNBIRN-MFC taking place form 15-17 September 2010. Experts from industry and academic research will present in more than 100 lectures solutions and product for various end-uses an application-profiles. Once more the congress underlines its claim as a European / American lead event.

In the 6 plenary lectures CIRFS (European Man-Made Fibres Association) / Brussels will report the challenges of a global man-made fibers market, CCFA (China Chemical Fibers Association) / Beijing about the developments of the Chinese fiber industry in a growing market, CMAI (Global Fibers & Feedstocks Market Advisory) / Houston about trends affecting synthetic fibers after the grear recession, the University of Ghent about biomimetics in polymer and fiber engineering, EDANA / Brussels about common challenges and opportunities for automotive nonwoven producers. The Hochschule Niederrhein / Mönchengladbach will present an overview about actual and future use of fibers in transportation.

Among the individual lectures the section new developments in fibers will be represented with 32 presentations during all 2 ½ days. Many leading international man-made fiber producers from Europe incl Turkey, USA and Japan will present their innovations along with findings from well-known research institutes from Europe and the USA. The section fibers and textiles in transportation (for the first time lectures from car manufacturing and research will deal with the topic of the use of man-made fibers in automotive) with 34 lectures is strongly represented.

The section nonwovens comprises 10 highly interesting lectures, the section new functionalities through spin finishes and modifications with 20 lectures and the section EU research projects with 4 lectures.