E-Auction – A well bidden tool for and by NTC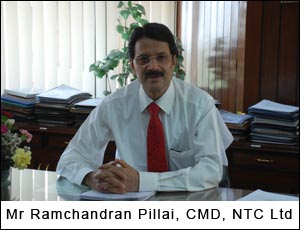 The National Textile Corporation Limited (NTC) is a Central Public Sector Enterprise under the Ministry of Textiles which was incorporated in April 1968 for managing the affairs of sick textile undertakings, in the private sector, taken over by the Government. Since then it has played an important role in the growth of Indian Textile Industry. Recently devised e-auction by NTC is the first of its kind of effort to raise funds by sale of land and properties through online bids. Inaugurated on 28th of July, by honorable Indian Textile Minister, Mr Dayanidhi Maran, this e-auction has created a buzz and mix-myths in the market.

To its continued effort of divulging out actual scenario and real facts to its valued visitors, Fibre2fashion's News team reached the veteran of the industry and CMD of NTC- Mr Ramchandran Pillai, who accentuates on the motivation behind this auction by stating, "Basically for any commercial figure, cash funds are the financial resources that matters a lot to go for either expansion or diversification. Thinking in that direction therefore, NTC getting more money from the sale of its assets will help us to embark on further expansions as well as diversification more confidently."

Further to our queries, on what exactly these expansion and diversification plans would be on and wherein NTC wants to utilize the raised funds thereon, Mr Pillai narrated, "Actually, I am sure you are aware, that till now, NTC has already completed modernization of its 18 mills and these mills are giving us a handsome cash profit since the last five months i.e. from March to till date. Our immediate plan is to complete our three ongoing projects; one at Hasan, other two at Achalpur and Rajnagar-Gujrat. As the first stage for any textile mill is spinning, therefore, we will be completing these spinning commercial productions for two mills i.e. Hasan and Achalpur by month of August and for third mill in Rajnagar by September. Thus, by September end, spinning facility will be installed, and by December weaving facility would be accomplished for all the 3 mills. Thereafter, we will proceed for incorporation of Processing facilities in two of the mills and Garmenting for remaining one. All this is expected to be completed by the end of current financial year. So this is what our existing line of planned activities aims at. Also, instructions have been given by Textile Ministry that, now as we are generating enough funds from our own internal resources, we can go for doubling our capacity that is 15.75 lacs spindles to approx 30 lacs. And of course, we are also likely to double our looms capacity and then processing, and then weaving capacities. As we do not have processing and garmenting facility till day, we would be having processing at two places and garmenting at one place, then. Hence, entire resources that we are going to mobilize would be utilized for CapEx plans. "

Detailing ahead, Mr Pillai also opined that as rightly emphasized in his agenda by Indian textile minister- Mr Dayanidhi Maran, technical textile sector has lot of potential and is going to be a lucrative boom for Indian textile industry. Hence according to him, NTC being the only public sector company manufacturing yarns and textile should definitely foray into this segment. "And, we are diving into this market," he further confirmed in specifications.