Threads: Textiles and Fiber in the Works of African American Artists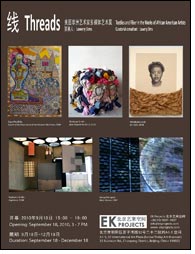 EK Projects, Eli Klein Fine Art's new gallery in Beijing, is pleased to present five major black American artists: Rashawn Griffin, Whitfield Lovell, Senga Nengudi, Shinique Smith and Saya Woolfalk. This exhibition is the first group show in China dedicated to the work of black artists. The use of "Threads" in the exhibit's title reflects the longstanding use in the black community of the phrase "nice threads" to convey appreciation of one's choice of clothing.

The artworks involve 'found objects,' textiles and fiber employed in unconventional ways in a variety of media, including works on paper, sculpture and video installations. The artists share an uncommon approach in blending materials and cultures.

Rashawn Griffin's installation of large canvases hung from the ceiling and intersecting the gallery's space appear as paintings, sculptures and installations at the same time. The material of his canvases, crudely hand-stitched and stained previously used pieces of fabrics, gives the viewer a sense of intimacy that is at odds with the impressive presence of their large scale. The works involve personal effects and 'found objects' to reveal both personal narratives and social landscapes, merging the ideas of sentiment, displacement, strangeness, and humor.

Whitfield Lovell's portraits celebrate the history of anonymous African American individuals during a period of struggle--the period from the end of the Civil War to the beginning of the civil rights movement. The artist collects old photographs from this period and uses this imagery to grant the subject identity and dignity. Indeed, the technique of portraiture (studio photographs) at that time was reserved for wealthy white Americans. His poetic evocation of the history of these people allows the spectator to relate to them.

In his elaborate and delicate charcoal and oil-stick portraits, a hand, symbolizing power and protection, provides shelter for the memory and heritage of the subject. The piece from the Kin series addresses the reality of the engagement of African Americans in the US military. By choosing a title referring to ancestry, the artist draws attention to this common heritage white and black Americans share in defending the country but also to the conflict of the Civil War. The rich vintage fabric acts as a protective barrier but also elevates the subject to a higher condition and social class.

Senga Nengudi gives objects a second life. She explains: "To shape shift paradigms I find different ways to use materials others consider useless or insignificant providing proof that the disregarded and disenfranchised may also have the resilience and reformative ability to find their poetic selves." Her sculptures made of previously-worn panties, which have been twisted, pulled, and knotted in pendulous sacks or limb-shaped. The spectator is introduced into the intimacy of the wearer, showing the fragility and sensuality of the flesh itselfby the connotation of the material but also by the hanging nature of the installation.