KOTRA to promote Korean textiles industry at LA TEXTILE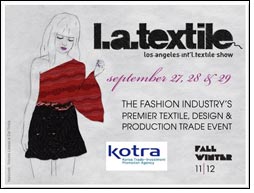 The Los Angeles International Textile Show (LA TEXTILE) will present its Fall/Winter 2011/2012 edition on September 27-29, 2010, and welcome the return of the Korean Pavilion presented by KOTRA (Korea-Trade-Investment Promotion Agency). The Korean Pavilion joins a well-balanced range of international resources at LA TEXTILE and will be part of an array featuring the world's top Asian mills representing countries like Japan, Nepal, India, and many more.

"Our main purpose is to promote Korean textiles and the fashion industry," said Mr. Wonsok Yun, Director General of KOTRA. "We are delighted to have the opportunity to partner this Fall with LA TEXTILE again."

The Korean Pavilion by KOTRA, a government agency with over 100 branches worldwide, will be located in the CMC's Fashion Theatre and showcase Korea's best textile mills and distributors including Texgood Co Ltd (polyester/ nylon span knit/woven), Fashion Flying (knit solids and prints), Duksung (pu leather, suede and finishing fabrics), Song Young Impex (embroidery, mixed wovens, denims), Yeon Woong Trade Co (embroidery for dresses and gowns), Tex Vision Co. Ltd (knits, lace) and many more.

KOTRA will also present a free seminar titled "KORUS FTA, New Opportunity for the Textile Industry," Tuesday, Sept 28, 2010, providing an overview of the KOTRA-US Free Trade Agreement and ways to utilize this agreement to maximize benefits for textile importers. This seminar is open to LA TEXTILE attendees and will take place in the CMC's Penthouse (13th floor) from 2:30pm-3:45pm.

The Korean Pavilion's participation at LA TEXTILE expands the selection of premier Asian mills, featuring companies from Japan, China, Taiwan, South Korea, Hong Kong, India, Nepal, and Turkey. New exhibitors include Anuska Impex (Nepal), Aroan Int Ltd (Nepal), Jin Myoung (Korea), Lecien USA Inc (Japan), Takisada-Osaka Co. Ltd (Japan) and The Imagine Fashion (India), to name a few. Returning exhibitors include Silk Fashion (India), Anteks (Turkey), Banaras Silk Mfg (India), Mokuba (Japan), Maruwa (Japan), Zen Tex – I.C.I (Japan, Korea, China), Matsuno Glass Beads (Japan), Kosha Collection (India), Shindo USA Inc (Japan) and many more.

"We have a great, diverse selection of international exhibitors at LA TEXTILE," said Oscar Rodriguez, LA TEXTILE Show Producer. "We're excited to present attendees with direct access to the best, creative resources found overseas."

LA TEXTILE will take place Monday – Wednesday, September 27-29, 2010, at the California Market Center (CMC). LA TEXTILE features hundreds of resources for textiles, design and production from North America, Europe and around the globe, in addition to complimentary seminars, trend resources and more.

The California Market Center is the epicenter of the Los Angeles fashion industry. Located in the heart of the downtown fashion district since 1963, the CMC is home to hundreds of showrooms and thousandsof lines, ranging from kids to contemporary. At the forefront of fashion, the CMC provides a showcase for established brands as well as new and innovative designers, making it a primary destination for buyers, press and tastemakers around the globe.