Trade appreciates Business Networking Forum at Yarnex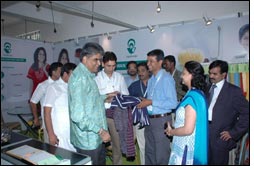 A plethora of new product launches and promotions as well as the Business Networking Forum, said to be the first of its kind to be held in Tirupur, were the major highlights of the second edition of the three-day Yarnex – India International Yarn Exhibition that concluded on September 5, 2010. "The only sourcing event of this calibre and stature to be held in Tirupur, Yarnex 2010 featured yarn and fiber suppliers from all over India, besides China, Pakistan, Hong Kong, Germany, Israel and Switzerland, amongst them many first-timers," said Mr P. Krishnamurthy, CEO, SS Textile Media Pvt Ltd., organizers of the show.

That the participants made best use of Yarnex 2010 could be judged by the fact that most of them used this platform to introduce and project their new products into this textile hub of South India.

"It was a good opportunity for us to use Yarnex 2010 as a springboard to introduce our new yarn 'Piloff' into this market," said Mr Thiru Jayagopal, Director, PKPN Spinning Mills (P) Ltd., a leading yarn manufacturer in South India. The super-structured yarn has less hairiness and suppresses pilling to a considerable extent, said Mr Jayagopal. "Piloff yarn is very much wash-resistant and fiber loss is nil and with no color fading. Piloff's fiber structure is such that it absorbs moisture and diffusion. Besides, there is no deformation or shrinkage."

For Cheran Spinner Ltd., Erode, Yarnex 2010 was a launching pad for their two new yarn ranges 'Softspun' and 'Crespon.' Said Mr Balachandhran Desamani, Director – Marketing: "Softspun is the yarn where special selected combed cotton web is blended with appropriate composition to give the ultra shine of viscose and maintain the wet tenacity of cotton and is the solution to avoid holes in knitted garments which is the current issue for garmenters." The other product Crespon offers crisp feeling and drape needed with very low piling.

For Lenzing AG – India, it was an educational session, said Mr Avinash Mane, Manager – Technical Marketing. "We used this show to educate the visitors about our Tencel and Promodal fibers."

Mr Chen Zhen, marketing, Hebei Jigao Chemical Fibre Co Ltd., China, had specially flown down to Tirupur for Yarnex 2010 to promote their Tanboocel bamboo fiber. "This yarn is eco-friendly as it is made from fast growing bamboo. In general, bamboos grow on hillside land with plantation, needs no irrigation, without pesticides and without fertilizers. This makes it 100 percent natural organic and is a sustainable resource," he said.

Nimbark Fashions Ltd., Mumbai had a range of new products like melange slub, short slub, thick and thin effect, polyester that looks like cotton and polyester. One of their latest products Parker – 40 P/F, not only looks like cotton, but also feels like cotton, said Mr Dinesh Maheswari, Director. Another product Mehek – 2/36 C/P looked like pure linen.

Exhibitors as well as visitors were all accolades for having participated or visited the event.