A fashion textiles show confirm positive trend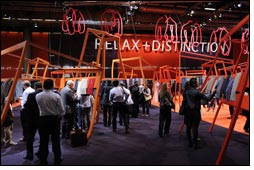 Are we finally seeing a revival of the economy? The latest edition of Première Vision Pluriel (14-16 September 2010) was extremely encouraging with three days of intense activity and excitement, with stands that often never emptied out, busy traffic in the aisles where meetings and discussions continued, a shared desire for news and creative boldness, orders being written, and a palpable energy in all sectors.

Figures confirmed the impression, felt by exhibitors and visitors, of a notably dynamic session and a return to business: the 6 Première Vision Pluriel shows (Expofil, Première Vision, Indigo, Le Cuir à Paris, ModAmont, Zoom by Fatex) jointly registered 61,440 visits from fashion professionals from over 100 countries across the world, an increase in attendance of over 10.2% over the September 2009 session. The new format of the show, now concentrated over 3 days, proved to be a positive and efficient step, strengthening the show's competitiveness and the lively atmosphere of business discussions underway.

Première Vision / Expofil: attractive and efficient
Positive. "This September edition was rich in contacts like we haven't seen in ten years." This enthusiastic declaration by Italian weaver Mr Picchi from Prato was echoed, on the visitors' side, by a similarly positive statement by British designer Lucie Marquis: "The show is busier. All of the exhibitors are so friendly and welcoming." And that of Birgitt Gebauer, European Executive Board Ladies & Concept Division, C&A Buying (Germany): "It's a positive season - you can feel it at our suppliers but also in the aisles and the forums too."

In fact, exhibitors and visitors to this September 2010 edition are making the same observation: the mindset has changed and the business climate has turned in a distinctively positive direction. As Laura Ortiz, from Textil Ortiz of Spain, put it: "Four of our former clients came back because they wanted to work again with their former supplier."

The same view was shared by Pierre Bonneville, of Jules Tournier of France: "It's a very good show. In two days we saw more visitors than in four days last year. All the contacts are high quality, and coming from all regions of the world - in particular there are many Japanese."

And Nihal Kaya, of Bossa (Turkey), added, "We're happy both in terms of quantity and quality. It's raining clients - they're everywhere."

For while exhibitors saw many clients, attracted by the creativity and exceptional quality of the products presented for this autumn winter 2011-12 fashion season, they also underlined the quality of buyers:

Decision - makers there with their teams, whose presence favours decision taking and a fully efficient work experience.

Efficiency. The key word of the season, efficiency, ended up being a pertinent one as well. Adding to the cutting-edge tools and fashion and marketing services made available, the show's new format, concentrated over 3 days, favoured a new dynamic.