Zoom by Fatex confirms its attractivity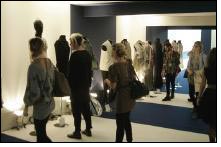 Are we finally seeing a revival of the economy? The latest edition of Première Vision Pluriel (14-16 September 2010) was extremely encouraging with three days of intense activity and excitement, with stands that often never emptied out, busy traffic in the aisles where meetings and discussions continued, a shared desire for news and creative boldness, orders being written, and a palpable energy in all sectors.

Figures confirmed the impression, felt by exhibitors and visitors, of a notably dynamic session and a return to business: the 6 Première Vision Pluriel shows (Expofil, Première Vision, Indigo, Le Cuir à Paris, ModAmont, Zoom by Fatex) jointly registered 61,440 visits from fashion professionals from over 100 countries across the world, an increase in attendance of over 10.2% over the September 2009 session.

The new format of the show, now concentrated over 3 days, proved to be a positive and efficient step, strengthening the show's competitiveness and the lively atmosphere of business discussions underway.

ZOOM confirms its attractivity and role as a unique « leader », a trade fair dedicated to quality manufacturing solutions for clothing, accessories and the home.

Zoom's 5th anniversary session, which took place from September 14 to 16, 2010 at Paris-Nord Villepinte, was seen both by visitors and exhibitors as a turning point that sealed their good intentions regarding this trade fair in the Première Vision Pluriel group dedicated to manufacturing at close proximity. Zoom by Fatex is an essential link between the industry's forward-thinkers and follow-up manufacturers.

Visitor attendance was huge (+28%) and the fair's switch from 4 to 3 days meant that appointments were more concentrated.

From the first morning, as participants got down to business, the large attendance showed that Zoom was noted in advance on visitor agendas and that some made the trip just to meet manufacturers. Visitor categories are more far-reaching, from buying offices with large-order volume to young designers, passing by well-known brands in the luxury and ready-to-wear industries or to more mass market brands appreciated by consumers.

A surprise : visitors specializing in home decoration made the trip. To the great satisfaction of exhibitors, there was a clear case of loyalty since some visitors who tested the Zoom « experience » in recent sessions returned to see exhibitors they had already worked with to develop new projects. Along with this renewed confidence, Zoom visitors were open to new propositions at the fair, for example producers of untailored clothes, shirts and household linens were a hit with order givers. Requests for leather goods and manufacturing increased, corresponding to developments in this sector.

International visitors remained in the majority (56,36% of foreign visitors) with a clear dominance of English visitors

Exhibitors grouped by country, more numerous than in February 2010, were particularly satisfied in September. Encouraging signs of a business resurgence hovered in the air throughout the 3 days. A « return from China » was felt on all stands, particularly those of North Africa, Turkey and Egypt. The re-centering of Chinese manufacturers on their interior market paired with problems linked to logistics, finishings, communication and price mean that Zoom's Mediterranean euro zone is once again interesting and attractive for order givers.