Intertextile - successful event; launch of new show next year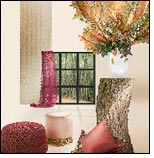 "Since 1995, Intertextile Shanghai Home Textiles has grown from being a part of Intertextile to the biggest home textile trade event in Asia. This year, the show has incorporated the whole home concept in its layout, providing participants with an even better and more comprehensive business platform," said Mr Olaf Schmidt, Vice President of Textile Fairs for Messe Frankfurt Exhibition GmbH. The show held from 24 – 26 August 2010 at the Shanghai New International Expo Centre attracted a significant numbers of exhibitors and visitors. Occupying 10 halls were 38,696 visitors and 1,017 international and Chinese suppliers.

China's fast growing home textiles market combined with the good quality of attending buyers are two important factors for attracting suppliers to join the fair.

Ana Rios, International Division Manager for Aznar Textil said: "China is one of our key markets and we have established selling points for our products in high end department stores. Trade fairs are an important platform for us to maintain our brand image and find new business. This show is able to attract quality buyers, we are delighted with the busy atmosphere of the show. That is why we continue to join Intertextile Shanghai Home Textiles."

Gonzalo Ferri SA, a leading luxury home textile manufacturer in Spain joined under the new European Zone and was impressed with the high quality buyers at the show.

Javier Mico representing the Export Department of the company said: "We took the opportunity to exhibit in the show to gain a better understanding of the China market. As a result, we have managed to broaden our distribution channels by establishing contacts with direct buyers and department stores across Asia. We look forward to returning next year with an even bigger stand to showcase our products."

With the new whole home concept, exhibitors were grouped into different end-use product categories ranging from bedding to towelling, from curtain to upholstery fabric and from wall covering to interior decoration.

With more than 250 years experience in producing top quality bedding products, Wedgewood is now aiming to further expand its business in China. Lydia Cheng representing Wedgewood Linens in China said: "Mainland China is now widely regarded as the country with the highest luxury goods consumption potential in the world. We think that the home textiles market has the same potential." "Riding on the high industry profile of Intertextile Shanghai Home Textiles and the large visitor flow, we hope to achieve brand marketing in China and gain even more recognition for our Wedgwood Linens bedding series," she further commented.

Italian based supplier Zambaiti joined the fair under the wall covering sector and was equally impressed with the busy environment at the show. "Wall coverings made with fabrics are gaining popularity in recent years, so I believe this home textile trade fair is an ideal platform for us to promote our products. I am glad to be present and the trading atmosphere is very positive," said Wu Kai from Zambaiti.