Lutradur ECO is setting a new environmental standard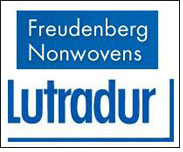 That's the number of two-liter, plastic bottles that Freudenberg Nonwoven's Spunlaid Division will recycle this year, thanks to groundbreaking research and an innovative commercial product.

Lutradur ECO is setting a new environmental standard. Not only is this polyester industrial backing made from 100 percent post consumer recycled (PCR) plastic, it's also being produced in company facilities that recycle their scrap through a closed-loop manufacturing process. The result is a high-quality product range that is helping customers and Freudenberg Nonwovens achieve sustainable, "green" operations and design.

"We are proud to offer Lutradur ECO, a unique green product produced through a sustainable, ecologically-sensitive process," said John McNabb, North American general manager of Freudenberg Nonwovens. "We have invested years of time and resources to commercialize this product. In most applications, Lutradur ECO performs as well as our existing Lutradur product."

Development of Lutradur ECO has evolved over the past 10 years as Freudenberg sought ways to help its construction, landscape and filtration customers achieve coveted LEED (Leadership in Energy and Environmental Design) credits for their use of sustainable products. Material and manufacturing engineers pushed to increase the amount of post industrial recycled (PIR) material used to produce Freudenberg's traditional Lutradur material from 15 percent to 90 percent. When the company migrated to 100 percent PCR, Lutradur ECO material was born.

Lutradur and Lutradur ECO are used to produce building and construction substrates; landscaping and weed block materials; residential and commercial wallpaper and carpet backings; automotive floor mats and carpeting; and specialized filtration devices. OMNOVA Solutions, for example, uses Lutradur Eco in its RECORE Recycled Wall Technology based wallcovering – a product widely used in Marriott hotels. OMNOVA recently honored its RECORE product line with an annual technology award.

Lutradur ECO is also used in landscaping fabrics like Easy Gardener's WeedBlock Recycled ™ weed control product and in primary and secondary carpet backings for green carpet tiles produced by Mohawk Industries.

Lutradur ECO is produced at Freudenberg's Durham N.C. plant. The process begins with the collection, bundling, shredding and cleaning of discarded beverage bottles made of polyethylene terephthalate (PET). Freudenberg Nonwovens then uses proprietary spunlaid manufacturing technology to make rolls of nonwoven polyester fabric from the shredded plastic. Every square yard of 85-gram-weight Lutradur ECO fabric produced keeps six 16-fluid-ounce plastic bottles out of a landfill. In most applications, this product performs as well as backing material made from virgin plastic.

Equally important, Freudenberg Nonwovens' Durham plant has implemented stringent guidelines to ensure that the nonwoven scrap produced in the manufacturing process is recycled back into the product, thus creating a closed loop industrial system that further reduces the operation's environmental footprint. Freudenberg's Durham facility recycles over 9,000 tons of waste polyester annually.