Texprocess shows trends in decorating textile products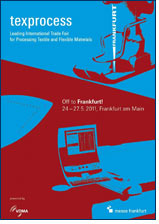 Apart from special weave, knit, dyeing, printing and fabric finishing effects which can be produced during the manufacture of fabrics, normally the main methods of product decoration are printing and embroidery. These techniques can be mixed and matched as much as the designer's flare and inspiration will allow. The wealth of different threads, fabrics for appliqué, trims, dyes and inks further enhance the decoration. Texprocess, the new leading international trade fair for the garment and textile processing industry from 24 to 27 May 2011 in Frankfurt, shows the new machinery for decorating textile products.

In terms of embroidery a wealth of single and multiple head machines are available; each head containing multiple needles, each of which can sew a different colour. Some multiple head machines now have selective head switch-off allowing apparent variable head spacing. Increasingly sophisticated software compliments the machines enabling maximum innovation of design. Attachments can be added enabling automatic attachment of a wide array of fancy yarns, ribbons, cords, chains, sequins, as well as colour and height adjustable chenille stitch loops. Tufted embroidery is also available.

Lasers further enhance the embroidery effect possibilities for cutting embroidery appliqués, holes, emblems and labels. Lasers can also be used for garment decoration in their own right by burning and engraving patterns direct onto the fabric, especially when used with thicker fabrics such as leather, plastic, and denim. Machines for embossing three dimensional designs using metal moulds have also been developed.

Direct to garment digital printing enables high production speed, high quality, value addition, unlimited personalization and customization at a low unit cost, whilst new inks provide for durable soft handle, dark garment printing, and high image quality. Digital printing is not designed to replace high production screen printing but is aimed at fast moving shorter run flexible production. It is breathable and comfortable for the wearer and rivals two stage sublimation printing in both feel and appearance.

Unlike other forms of print images it can be scaled to match the garment size without adding cost. Using other methods of print a standard size print image is normally used to cover a range of sizes, the resulting image does not therefore necessarily appear in proper proportion to the size of the garment. With digital printing, at the click of a mouse, the image can be scaled to match the garment from a child's extra small to a full size triple XL.

High frequency welded graphics, PVC's, flock transfers and many other methods of transferring material via heat all offer the designer further scope for decorating garments. Conventional sewing machines can also be used to add decoration onto garments, such as a computer-controlled, lockstitch high-speed zigzag sewing machine which can produce many pattern variations including straight, zigzag, double zigzag and triple zigzag stitches in different threads.