CM flags off first ATDC SMART Centre in Chennai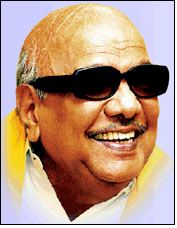 The National Launch of the Integrated Skill Development Scheme for the Textile & Apparel Sector, Ministry of Textiles, GOI with a total outlay of Rs 2300 Crores and an ambitious target of training about 2.56 lakh workforce in the next 2 years is flagged off along with the launch of the 1st state of the art ATDC SMART(Skill for Manufacturing Apparels through Research and Training) Centre to impart the skills envisaged in the scheme by Dr. Kalaignar M. Karunanidhi, Hon'ble Chief Minister of Tamilnadu on October 8th, 2010 at Egmore, Chennai.

The National Launch will then be presided over by Thiru. Dayanidhi Maran, Union Minister of Textiles. The occasion will be graced by the presence of many other dignitaries like:

• Thiru. M. Subramanian, Mayor, Corporation of Chennai
• Thiru. G.K Vasan, Union Minister of Shipping
• Thiru. K.K.S.S.R Ramachandran, Minister for Backward Classes and Handlooms & Textiles, Govt. of Tamil Nadu
• Thiru. Parithi Ilamvazhuthi, Minister for Information, Govt. of Tamilnadu
• Tmt. Rita Menon, I.A.S., secretary, Ministry of Textiles, Govt. of India
• Shri V. Srinivas, I.A.S., Jt. Secretary, Ministry of Textiles, Govt. of India
• Shri Manish K Gupta, I.A.S., Director, Ministry of textiles, Govt. of India
• Shri Premal Udani, Chairman, AEPC & ATDC
• Shri Hari Kapoor, Convenor, BOG, ATDC & Core Committee, SMART
• Shri Vimal Kirti Singh, I.A.S., SG, AEPC
• Dr. Darlie Koshy, Director General & CEO, ATDC & IAM

The role of ATDC under the Integrated Skill Development Scheme: Apparel Training & Design Centre (ATDC) has been selected as a Nodal Agency under Component I of MOT, GOI Scheme to take forward the ideated mission. It is in recognition of ATDC's new initiative over the past 2 years and Pan-India network of over 50 centres having trained over 55,000 workforce for the industry that the Govt. of India have nominated ATDC as a nodal agency for the implementation of the Integrated Skill Development Scheme of the Govt. of India.

The Govt. of India have "in principle" approved the ATDC's proposal to set up about 100 SMART centres to train over 40,000 youth and women in the next 2 years and 1.7 lakhs over the next 5 years. The entire ATDC network is gearing up to meet this challenge and across India all ATDCs will focus on setting up SMART Centres within the Hubs and Centres while establishing new Spokes in existing and emerging apparel clusters and manufacturing centers.

ATDC is a society registered under the Society Registration Act under the aegis of Apparel Export Promotion Council and supported by Govt. of India. ATDC has the Largest Vocational Training Network Pan India with over 50 centres present in major Apparel and Textile producing hubs in the country covering a spread across 20 states. And now, with ATDC been selected as the Nodal agency under the Integrated Skill Development Scheme, MOT, GOI it is envisaged that an additional 42 centers will be opened Pan India with close to 11 of them being in Tamilnadu itself, in order to reach ordinary masses who can then be created into skilled workforce.