Bureau Veritas organizes Awareness Program at Chennai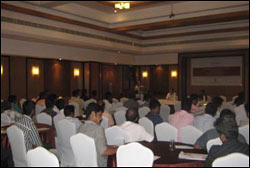 Bureau Veritas has developed many new testing capabilities and services at laboratories in southern region of India with increasing business perspectives in the region. Bureau Veritas India organized an awareness program at Hotel Green Park Chennai.

The program has been attended by 30 companies including Asmara, Ambattur Clothing Company, Gupta Garments, Magnum Clothing, Pearl Global etc in apparel category; and Farida Group, Sakshi Footwear, Gayatri Enterprises, Ramjee Leather etc in Leather and Footwear Category. Bureau Veritas presented its services and capabilities in the session as:

• Introduction of Bureau Veritas
• Supply Chain Quality Management
• Softline Testing
• Analytical Testing
• Leather & Footwear Testing
• Highlighted our strengths in carrying out supply chain risk assessment for SVHC
• Highlighted our expanded capabilities at Bangalore Analytical lab and setting up of first Analytical Test facility by any 3rd party testing agency in Tirupur.
• Service related improvements like BV handling the logistics from Chennai / Ambur region, better TAT (outstation vendors taken on priority).

With considerable growth of textile, leather and footwear business in South India, Bureau Veritas has expanded its capabilities at Bangalore and Tirupur locations. Bangalore laboratory has shifted to a new location resulted in order to accommodate increasing demand with increasing business and new testing services with some new testing capabilities. New laboratory of BVCPS is designed in 35000 square feet area, and equipped with the latest testing equipment providing testing facilities for textiles/garments/accessories.

Bureau Veritas has established a well-structured testing laboratory at Tirupur and developed many new analytical testing capabilities recently with GCMS, ICPOES, and UVVIS equipments providing chemical testing facility. The facility will provide analytical testing services for Azo, Phthalates, Formaldehyde, Heavy metals, lead contents, pH etc on all type of consumer products for textile, apparels, leather, hard goods industry.

The program covered the challenges being faced by the manufacturers in the supply chain in the interactive session with the attendees during the Q&A session. Bureau Veritas provided the solutions to improve the product throughout the supply chain and received a wonderful response from the attendees on the event.

Bureau Veritas Consumer Products Services, India Pvt. Ltd.