Clariant's hi-performance color solutions showcased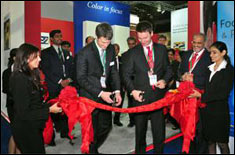 A broad portfolio of high performing economical and novel color solutions were showcased by India's leading specialty chemicals producer Clariant Chemicals (India) Ltd under the theme "Color in Focus – Sustainable Pigment Solutions" at the Asia Coat + Ink Show 2010, that concluded in the first week of October, in Mumbai, India. These included Clariant's pacesetting ideas for traditional and non-impact printing as well as for innovative metal decorative inks.

Organised by Koelnmesse YA Tradefair in conjunction with AIPIMA, IIP and IPCA, the Show spread over 4 days, witnessed over 12,142 visitors to the approx 366 fair booths.

Present on the occasion, Mr. Martin P. J. John, Vice President Marketing & Sales Printing Business, BU Pigments, Clariant International, Switzerland, explained, "The emerging markets such as India, Brazil and China will contribute significantly to the global landscape of the ink industry. This is why Clariant - as a key supplier to this industry - will further focus on these markets with high performing, economical color solutions, services and a professional team that is a strong and reliable partner for our customers."

Mr. Ibrahim Zidan, Head of BS Printing – Asia/Pacific, Clariant Chemicals (China) pointed out that, "Clariant is positioned very well with:

• a broad portfolio of high performing economical color solutions product safety know-how to support the growing consumer awareness in the mature and increasingly emerging markets like India and China on product safety requirements
• also important is a very dedicated and experienced technical team and sales staff across the world who understand the needs of our customers. This translates into the creation of a right product and services mix that benefits their customers also, in turn. Clariant is taking significant measures to remain a long-term oriented and value adding supplier."

Mr. Ravi Vaidya, Business Head Printing, Pigments, Clariant Chemicals (India) Limited said, "Currently, the per capita consumption of printing ink is very meagre in India as compared to the developed nations, as also other countries in the Asia region. This clearly indicates that the market has ample opportunities to grow. The lifestyle changes will impact our food habits pushing the demand for more and more packaged foods. This will also generate business for the high performance pigments as retortable packaging and metal cans will need superior performing inks and coatings."

Dr Martin Poppe, Head of Global Technical Marketing Printing Inks, Clariant Produkte (Deutschland) GmbH presented a paper, at the parallel AIPIMA seminar, that detailed on the eco-friendly package that Clariant's Printing Inks segment has on offer. He elaborated, "Product safety is the dominant topic for the food packaging industry. Fulfilling the purity criteria given by the legislation, like heavy metals, primary aromatic amines (PAAs), etc. is often not enough. In addition, many brand owners introduced their own product safety specifications to guarantee the high quality of their products.