India will be a significant denim player – Mr Dayal, Mafatlal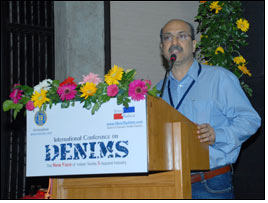 The delegates in the second session on day-1 of the International Denim Conference were enthralled by a scintillating presentation on "Overview of the Indian denim business", from Mr Rajiv Dayal, Managing Director at Mafatlal Denim. He dealt upon four main points concerning the sector in India; growth of the industry, current status, the next decade and finally, the challenges.

The total production of denim fabrics in India, which was valued at Rs 46 billion in 2005, of which the domestic market accounted for Rs 30 billion and the rest was meant for exports, is estimated to leapfrog to Rs 78 billion in 2010, with Rs 52 billion meant for domestic consumption and Rs 26 billion worth, will be exported.

As per the estimates, denim fabric production value will nearly triple by the year 2020 to Rs 220 billion vis-à-vis 2010 estimates, and domestic market will also shoot up to touch a value of Rs 140 billion and exports will garner around Rs 80 billion.

The global market has grown consistently, decade after decade, at between 2 to 5 percent per annum, with the current global denim fabric market size estimated at five billion meters per year or approximately US $13 billion, and an adequate global capacity to feed this requirement, estimated at around 6.6 billion meters per annum.

The Indian denim markets have grown at a CAGR of between 10-12 percent per year in the last decade. Against a capacity of just 35 million meters per annum churned out by three mills in 1987, denim fabric output has now touched 650 million meters rolled out by 26 mills and is forecasted to add 50 more millions meters in 2011.

The domestic Indian apparel market which is estimated at US $36 billion in 2010 is forecast to surge to $61 billion in 2015 and $100 billion by 2020. The main drivers for this growth are demographic, thanks to a 50 percent population which is between 15-35 years; increasing incomes which will lead to more disposable incomes and organised retail, whose current share is just 12 percent, but is expected to augment to 22 percent, by 2020.

Among other growth drivers, Mr Dayal banks on tier II & III towns and cities, from where the real growth will emanate; advent of buying houses like, Wal-Mart, H&M, Marks & Spencer and Gap; increasing garment exports; bollywood icons and finally denim itself, mainly due to its attributes like comfort, low maintenance, durable and trendy and fashionable.

Mr Dayal estimates the Indian denim market to grow by 10-12 percent over the next ten years and has the potential to grow from the current 600 million meters per annum to 1200 million meters in the same period. Volume-wise, the US & EU markets are forecast to grow between a negative one and five percent, with emerging markets rising between an astounding 5-15 percent and overall global growth rate is estimated at between 3-5 percent over the next decade.

Amongst the challenges and the way forward, he advocated product development and fashion forecasting groups for the Indian and global markets; development of relationship with international brands on the basis of "equality" and other uses like in home furnishing and sarees and leadership in product innovation.