Panelists at international conference bat for denim lobby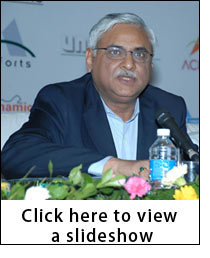 Despite the fact that the first-ever International Denim Conference was running behind schedule, mainly due to the fact that the eminent speakers were getting carried away by the rapt and attentive delegates and crossing their designated time limits, still, the delegates did not give a go-bye to the last session towards the late evening; a panel discussion on denims and still looked like a force to reckon with, in the conference hall.

The panel discussion was chaired by Mr SK Gupta, Group CEO, Raymond UCO Denim and the panelists too compromised of the who's who of the industry, beginning from, Deepak Chiripal – Chiripal Group, Nipun Arora – Aarvee Denim, Sudhir Mukerjee – Arvind Ltd, Gopal Jhaver – Bhaskar Denim, P Bandhopadhya – LNJ Denim, Jatin Mistry – Jupiter Coptex, Madhubhai – Yamuna Machinery, David Emrey – Ukil Machinery and Mr Lomesh – Prashant Group.

Mr Gupta threw open the discussion by posing the first question to Mr Sudhir Mukerjee, by asking him his opinion on the burning issue of rising cotton prices, to which Mr Mukerjee replied by saying that, he foresees a correction and adjustment in cotton prices in the short-term future and thanked the govt for putting a cap on exports of raw cotton.

To a query directed to Mr Bandhopadhya regarding the mismatch between demand and supply of yarns in India, Mr Bandhopadhya informed that, plans for setting up additional spinning were taken around the same time, due to which there is a delay in deliveries of machines, but once all these plants are all operational by 2011 or 2012, the foresees the demand-supply mismatch to reverse.

Next, Mr Gupta quizzed Mr Deepak Chiripal as to whether in the current circumstances; he was in favour of a regulatory duty on yarn exports, and follow the footsteps of Pakistan, Mr Chiripal replied in the negative by saying, "I do not favour regulatory duty on yarn exports as currently the textile sector is running in full swing, but he was open to the same, if the fabric producers complained about a demand-supply gap in the future, which is not the case now".

The next question again directed to Mr Chiripal, as to whether, going forward, he foresees a drop in demand due to rising prices and whether textile mills would shift product mixes, he replied by saying, "Industry will have to be more creative and since today, polyester is already being blended with cotton to produce denims, he anticipates viscose, modal or even textured filament yarn to be blended with cotton in the future".

Another step which he said the denim industry was already implementing was replacing coarser and heavy weight denim with a compact and light weight variety on the recommendations of their buyers.

Mr Jhaver seconded him by saying that, lycra could be blended with cotton for producing denim fabrics and that the current trends are moving towards lighter-weight denims and that the US market is also gung-ho on spandex in a bidto make the denim stretchable.