Splendid activities concurrently held in YIWU H&G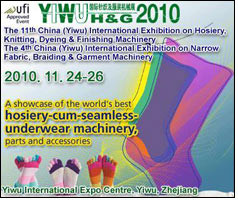 Dubbed as China's first UFI approved hosiery, knitting and braiding machinery exhibition, The China (Yiwu) International Exhibition on Hosiery, Knitting, Dyeing & Finishing Machinery (herewith below "YIWU H&G") is an exhibition specializing in knitting machineries, especially on hosiery and seamless-underwear machineries throughout the past ten-years' development. Gaining strong support from industry players, YIWU H&G has been rewarded as one of the top ten exhibitions in Zhejiang Province in 2009 again.

YIWU H&G 2010 will be held on 24-26 November 2010 at Yiwu International Expo Centre. "Founding Ceremony of China Underwear Committee "will also be held concurrently which give a highlight to the exhibition.

Splendid Activities Concurrently Held in YIWU H&G 2010

Benefited from the recovery and the surging demand for the textile industry, as well as the strong confidence on YIWU H&G, 130 high quality suppliers will bring their latest and advanced machineries, equipments and technologies to the exhibition this year. Moreover, with enormous support and active participation of industry's leading enterprises and associations, YIWU H&G 2010 has been chosen as an ideal platform for presenting various splendid activities, innovating a grand gathering for knitting industry. The details of the activities as below:

Activity 1:Founding Ceremony of China Underwear Committee
Time: 1:30-2:00pm (Nov 24, 2010)
Venue: Functional Room, 2/F., Yiwu International Expo Centre
VIP & Guests: Mr. Li Jian Hua, The Chairman of China Textile Commerce Association, Mr. Li Cheng Qun, The Vice-chairman of China Textile Commerce Association, Mr. Ji Jin Fu, Deputy Mayor of Yiwu City, etc

Activity 2:China Underwear Summit 2010
Time: 3:30-6:00pm (Nov 24, 2010)
Venue: Functional Room, 2/F., Yiwu International Expo Centre
Main Theme: Discuss "The breakthrough in a perfect competition market" and "How the underwear industry realizes its competitive advantage via the industry chain? How to make use of the extending service to explore China's market? How to learn from the experience of pioneers of other manufacturing industry?" etc.

Activity 3: "Hosiery & Knitting Collections Display Zone"
Time: Nov 24-26, 2010
Venue: Display Zone, Hall A1, Yiwu International Expo Centre
Details: The well-known enterprises in China's hosiery industry, MengNa Hosiery and Zhejiang Yiting Knitting Co., Ltd will demonstrate the new material-made socks and knitting products, including functional cotton socks, silk stockings, seamless underwear, etc.

Business Advantage of Yiwu City Highlights the Effectiveness of YIWU H&G

The phenomena of "One out of three socks is made in Yiwu" can fully reflect Yiwu's predominance of being the small commodity production hub in China and the world. Not only the knitting industry, but also the hosiery industry is significant in Yiwu. The annual productionof the silk stockings, cotton socks, pantyhose, etc are around 5 billion pairs and the output value is about RMB 6 billion, which accounts for 40% of China total's market.