Kiri-DyStar will now act as global consolidator of dyes business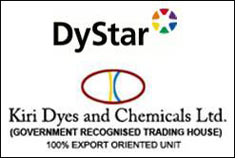 Kiri Holding Singapore Pvt Ltd, a subsidiary owned by Ahmedabad based. Kiri Dyes and Chemicals Ltd. (KDCL), announced the acquisition of the US based arm of DyStar Group.

• DyStar US has revenues of over US $100 million and EBITDA of US $10 million
• An attractive amount paid for the acquisition is US $ 10 million which is 0.lx sales & 1x EBIDTA
• Acquisition includes a factory, warehouses in North Carolina & California
• Earlier this year Kiri Holding Singapore Pvt Ltd, had also acquired the Global business along-with all the subsidiaries ( Ex- DyStar US) of DyStar

The company currently employs 126 people. With textile dyes from DyStar and textile auxiliaries as well as leather chemicals produced in Reidsville, DyStar North America has revenue of more than US $ 100 m1n, and is profitable with EBIDT A of US $10 million approx. It is market leader in many product segments and has grown significantly in 2010. Earlier this year Kiri Dyes had announced the acquisition of the DyStar along with all its global subsidiaries (Ex-DyStar US). The acquisition would include DyStar's US based production site and warehouse in Reidsville, North Carolina, and a warehouse in Southgate, California.

Commenting on the acquisition Mr. Manish Kiri, Co-Chairman of the DyStar Group said: "Kiri DyStar is acting as global consolidator of the dyes business, and aggressive cost cuts coupled with off shoring of production, all with huge top-line of over US $1 bin, will result in high profitability across the group. As has been demonstrated by our two DyStar purchases this year, we are deep value buyers, who look to buy assets with great brands, good distribution, all at rock bottom prices, all of which add significantly to increasing shareholder value through increased Return on Capital, which is our core focus at Kiri. It is our intention to build a sustainable dyes and chemicals global organization, For that, we needed a powerful sales organization in North and Central America and maintain the retailer connection."

With this acquisition, the overall DyStar group will have revenues, of well over US $850 million approx in FY11, and of nearly US $ 1 bIn in CY 11 (Jan to Dee 2011). This 'will provide KDCL consolidated revenue of US$ 1bn in FY11. In addition to this, as a part of the ongoing restructuring and product transfer program of dyes from Germany to Asia, it is projected that DyStar Group would save greatly on direct as well as indirect costs.

In direct costs, DyStar Group could have saving of US S 70.58 mln in CY 2012 and US $ 76.58 mln in CY 2013 as compared to annualized fixed conversion cost of US $ 183.94 m1n in CY 2009, which is mainly due to reduction of human resources Cost and by transferring the production to low labour cost region. In case of indirect cost it is projected that DyStar Group can save US $ 39.04 mln in CY 2012 and US $ 29.45 mln in CY 2013 due to reduction in Selling & Logistic cost as compared to US $ 135.62 mln in CY 2009. These factors will contribute to DyStar earning between US $ 55.86- US $ 69.83 m1n in CY 11.