Challenge all principles to innovate continuously – Mr Narkar, Malwa Group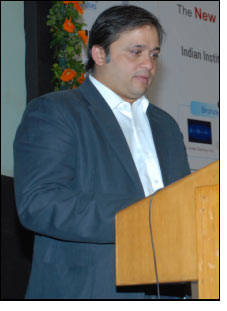 The post-tea session on the second day at the International Conference on Denim began with a presentation from Mr Rajesh Narkar (Product Marketing) at Malwa Group on "Marketing Strategies for Indian Denim Players to Compete". He joined the denim industry in 1994 and has since not looked back.

The presentation began with very impressive statistics on the global retail structure. He informed that, there is no major country where a leading apparel retailer has over 15% of the market; the world's top ten clothing retailers account for only 16 percent of worldwide garment sales and only specialists like H&M, Zara and Uniqlo, etc are working towards a global footprint.

Within apparel retailing, private label brands are increasing their share versus established brands; direct sourcing still makes up for a very small share and a larger portion, even today, is supplied to global retailers by third parties or full service vendors ( FSV) and finally for most retailers, sourcing isn't a " hard" full board strategy, yet, he added by saying.

According to Mr Narkar, the industry trends driving change are consumer behavior, which is driving the value chain, collaborative supply chain and ethical sourcing and fair trade. The denim world today would be defined by four main geographic areas – China, India, Turkey and Pakistan.

The main points to drive strategy are 'circle of concern' and 'circle of influence'. Amongst circles of concern are rising raw material costs, FTA agreements, high labour costs, appreciating currency and lack of cohesive textile policy. Within circle of influence what matters is product innovation and quality, cost competitiveness, challenging efficiency models, aggressive marketing and consistency in approach, he said.

His answer to competing was business innovation, partnering effectively across the value chain to gain strategic advantages, innovate continuously across product and manufacturing processes to build competitive advantage, build product and service as differentiators and not input costs, create winning value propositions by being local to global needs, build global capacities and buy into vertical partnerships across supply chain and brands, which build value to the business.

Among others he suggested to build design to respond faster and set up globally competitive and collaborative supply chain formats – from fiber to store, utilize our fiber and fabric capabilities to focus on sustainability, invest in human capital and talent management for the future and lastly, challenge all the above principles to continuously innovate and improve quality in terms of product and customer service.

The second presentation of the session was from Mr Navin P Agrawal, Product Head – Karl Mayer (Warp Preparation). He took the delegates through the growth phases of Karl Mayer beginning from 1937 when it set a mechanical workshop, and 10 years later the company started production of tricot machines to the acquisition of warp preparation product ranges of Sucker-Müller, Griffin and Benninger in 2007-08 to celebrating delivery of 100,000th machine from its factory in Obertshausen in 2010.