New innovations in denim processing enthralls all at denim conference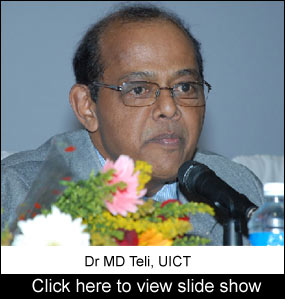 The post-lunch session at the International Denim Conference started with a presentation from Mr Pradeep Bora, DGM – Anil Products. Established in 1939, Anil is considered a solution provider in sizing and enzymes for textile industry and is a pioneer and leading corn wet milling company in India. From a humble start of 1ton / day grind, today it has touched over 525 tons / day grind.

Mr Bora started off by listing the challenges the sizing division faces in current times, which includes; high speed weaving machines; tough fabric constructions and more fine and superfine count varieties; providing cost savings with better weaving efficiencies; longer length of fabric with minimum defects and lastly wider width fabrics.

The denim sizing industry too has challenges of its own which are different ring slub multi-count varieties, finer shirting varieties, which means, more number of ends in single size box, the answer to which is modified starch, which are modified to enhance their performance, during applications.

The property changes which are visible are increased adhesion and cohesion even at short chain length, increased paste clarity, smooth and flexible film, stable viscosity against temperature fluctuation, very negligible retrogradation and reduced pasting temperature.

Informing about the advantages of modified sizing, he said, stable viscosity leads to uniform sizing; it gains high film strength and also better high adhesion (Lap Joint) performance, which leads to better performance and also to less use of synthetic binders, which all in turn ensure lower warp breaks and higher loom efficiency.

When considering recipe cost, it reduces use of synthetic benders or eliminates in some cases, can work at lower add on levels and is comparatively cheaper to synthetic binders. Modified starch also leads to easy desizability and reduces consumption of enzymes (Tested in only warm water) along with being eco-friendly. When applying it has properties of easy cooking at lower temperature and less time required for cooking and has less retrogradation, he said in conclusion.

The next speaker on the agenda was Mr VV Mundhe, CEO – Acetex Textile Engineers. Mr Mundhe is credited with developing an innovative model of customized solutions for cotton waste reuse through systematic approach, which was also the theme of his presentation.

The technological development of cotton cleaning process is being refined and optimized every day and even then cotton waste generation is an inevitable part of the process. The waste which is generated from blowroom to winding has high fibre content with properties at par of the parent fibre, so in the Indian context the spinner is left with only one option that is recycled cotton fibres (RCF) and it is same story, globally, he informed the rapt audience.

However, he added by saying that, there is a general sentiment concerning the quality consistency of the yarn made of this blend from rcf fibres, especially with the sensitive segments like denims, terry towels etc. The answer to which is Acetex integrated module for rcf blend, as it provides a complete solution for yarn manufacturing from rcf blending.