Elmarco & PolyNanoTec sign deal for nanofiber material production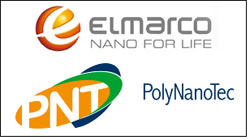 PolyNanoTec (PNT), a leader in the research and development of electrospinning formulations, and Elmarco, the industry´s leading supplier of industrial scale nanofiber production equipment, signed a mutual cooperation agreement on 2nd November 2010. Their goal is to offer effective and complex technological solutions in nanofiber material production to all industrial customers.

Electrospinning is a key technology for nanofiber preparation. This process (technology) is closely watched and developed by academic researchers as well as industrial researchers. The unique patented Nanospider technology (needle-free high voltage, free liquid surface electrospinning process) enabled Elmarco to build industrial scale nanofiber production equipment without nozzles, needles or spinnerets. Nanospider technology allows the production of nanofibers from different polymers.

PNT is currently the only company supplying commercially available formulations specially designed for electrospinning and it closely cooperates with academia, namely University of Marburg (TransMIT-Business Unit), thereby ensuring a strong research background. The Elmarco and PNT partnership is a logical step.

The expectation is a significant market push for highly efficient technical systems for large scale electrospinning, as well as a boost for academic research. Customers from all industries can benefit from the resulting partnership: they will get a state-of-the-art solution for polymer formulation, and electrospinning equipment for nanofiber production.

Elmarco s.r.o. is the industry's first supplier of industrial scale nanofiber production equipment. Partnerships with global industrial leaders and universities form the foundation for success of the company.

PNT, a business unit of the Germany based TransMIT GmbH, is the first industrial supplier of formulations for electrospinning for nanofiber production. PNT has developed formulations for solution and melt electrospinning based on a strong scientific background of the University of Marburg and numerous industrial cooperations.

Elmarco s.r.o.