Developing countries to spark growth in global textile market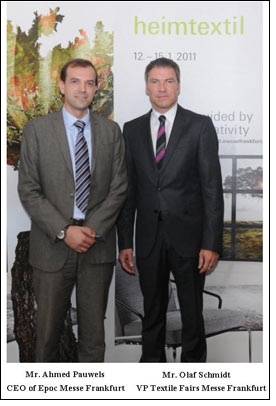 A total of 3,000 contract textile buyers and visitors from Dubai, UAE emirates and Middle East countries will visit Heimtextil 2011, an international trade fair for home and contract textiles, according to Messe Frankfurt, organizers of the trade fair for home and contract textiles being held in Frankfurt, Germany from January 12 to 15, 2011.

Speaking to reporters at a press conference in Dubai, Olaf Schmidt, Vice President Textile Fairs Messe Frankfurt said, "Last year also saw an increase of 43% in contract textile for sale. Contract textile includes those buying for furnishing in hotels and lavish construction projects in the Guilf. Well known big designers such as Hugo Boss had also entered the contract textile market design business. "

Mr. Schmidt added, "Demand for home textiles is influenced by a number of demographic factors such as growth in disposable income, consumer confidence levels and other general economic variables and Asia-Pacific represents the largest textile market with China and India the clear leaders in textile exports followed by Korea and Taiwan."

The global market for textiles is projected to exceed 127 million tons in 2010 as per industry estimates. Against the backdrop of such strong projections, the demand for textiles will be driven consumers' preference towards consumption for home furnishings and home textiles.

Mr. Schmidt noted that demand for textiles stands enthused by growing consumer expenditure on apparel, home furnishings and other products.

Textile industry, comprising of spun yarn products, broad woven and knit fabrics, and floor coverings is highly cyclical in nature. Noteworthy factors influencing the textile industry include demographic factors, growth in disposable income, consumer confidence levels, technological developments, fashion trends, and other general economic variables.

Last year than 2,500 buyers for hotels and commercial projects, creative designers, interior decorators and architects from the Middle East took advantage of opportunities at the exhibition and have registered as trade visitors for the event.

"The international role of Heimtextil is to build networks and develop markets, to keep pace with market developments and make them accessible to industry and trade around the world," said Mr. Schmidt. "Leading market presence of Heimtextil fairs in the production markets of China and India that allows industry around the globe to source raw materials and textiles for further processing," he said.

Mr. Ahmed Pauwels, Chief Executive Officer of Epoc Messe Frankfurt GmbH explained that Heimtextil 2011 will preview the colors, shapes, textures and materials for the 2010 /2011 season. A presentation on sustainable operations - for the benefit of the environment, the economy and for business success will also be held and showcase Contract Creations: and explore market opportunities for growth in contract textiles for Hospitality, Office and Congress locations and Health and care.