Research project on 3D fibrin textiles for biomedical sector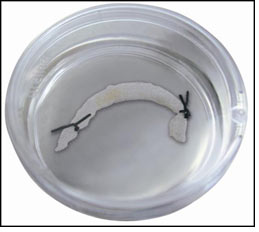 The use of textiles in the medical sector has been expanding continuously for a number of years now, a high technology field of application whose economic viability is undisputed. Research in this area is currently extremely active, with countless ideas for innovative textiles designed to respond to the needs of the medical/hospital sector.

One interesting project in course, dubbed "PANAGENESI," aims to optimize the implanting of human pancreatic islands through the use of fibrin scaffold. This project is financed by the Region of Lombardy and is being developed by five different entities bringing together their respective know-how and multi-sector expertise.

Among the research partners are three Italian manufacturers operating in the textile sector: TORCITURA DI MENAGGIO - a silk yarn twisting company; GAETANO ROSSINI HOLDING - specializing in the production of 3D fabrics; and COMEZ, based in Cilavegna (PV), a global leader in the manufacturing of narrow fabric technology machinery. These manufacturers are partnering their efforts with the STAZIONE SPERIMENTALE PER LA SETA [EXPERIMENTAL SILK CENTRE], one of Italy's most renowned research centres specializing in the textile sector, and Milan's Niguarda Ca' Granda hospital, which is Italy's most important medical research centre in the field of histotherapy, focusing on in vitro regeneration of human tissue.

Also involved in this project are the Diabetes Research Center of the University of Miami in Florida, a world renowned centre researching and experimenting with treatments for diabetes patients, headed by an Italian researcher, Dr. Camillo Ricordi.

The first successful transplant of pancreatic stem cells occurred in September 2005, from the bone marrow of a deceased donor to a woman with diabetes. The procedure was performed in Florida by Camillo Ricordi, head of the cell transplant division at the University of Miami. The transplanting of pancreatic islands currently represents one of the possible treatments for curing a type of diabetes, and is generating interest in the scientific community for the clinical successes obtained thus far and concrete prospects for future improvements.

There are numerous advantages associated with the transplanting of islands with respect to that of the pancreas altogether, however a variety of issues must still be resolved, one of which is related to the difficulty of transplanted islands in taking root. Improving the process through which islands take root today represents an important research sector, and the strategies being proposed include the use of molecules which reduce inflammation in the implant area. Fibrin, a protein extracted from silk, has been studied extensively by tissular engineering for biomedical applications due to its biocompatibility, slow degradability and considerable mechanical properties. Today, fibrin can be modelled into a variety of forms (film, fibre, netting, weaves, membranes, yarns and sponges), and has demonstrated significant support and adhesion capacities for various types of cells, promoting the repairing of live tissue. Furthermore, its molecular and surface characteristics make it highly biocompatible, and its implanting causes a reduced incidence of inflammation.