Q4 revenues & PurCotton sales up at Winner Medical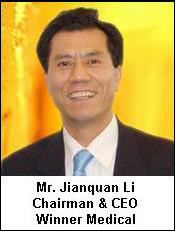 Winner Medical Group Inc, a leading manufacturer of medical dressings, medical disposables and non-woven PurCotton materials for the medical and consumer products industries in China, announced preliminary, unaudited financial results for its fiscal fourth quarter and full year ended September 30, 2010. 2010 fiscal fourth quarter and year ended results are unaudited and subject to change.

Fiscal 2010 Results
"We maintained stable gross margins and delivered modest fourth-quarter operating results despitepressure from the European debt crisis,a parabolic increase inraw material prices, and a rising RMB, all of which occurred simultaneously," said Jianquan Li, Chairman and Chief Executive Officer of Winner Medical.

"During the past year we have made significant progress on several of our growth initiatives which are evidenced in our full year results, which include stable gross margins. We are confident the actions we have taken will yield further operating benefits during 2011. Our brand and competitive position continues to improve as rising commodity costs drive smaller competitors out of business. As we raise prices and gain additional market share by expanding distribution in China and abroad, we are confident in achieving our revenue growth to our target rate of 20%-30% per annum."

Medical Business Update
Preliminary net sales to Europe grew approximately 5.4% versus the fourth quarter of fiscal 2009. Orders in Europe slowed for the entire industry as the debt crisis hit and clients located in Greece and Spain in particular postponed or cancelled orders. Export sales to North and South America remained robust, growing by approximately 20.7%. The growth was driven by increased orders from American and Brazilian clients, since Winner Medical's quality and delivery punctuality is well recognized.

Cotton prices spiked during the summer, rising over 23% from June 30, 2010 to September 30, 2010. Manufacturers such as Winner Medical raised prices to offset these unprecedented levels of commodity inflation, and customers in China and Japan postponed orders. A positive benefit from soaring cotton prices for Winner Medical in the long-run is that many small competitors without sufficient scale are reducing output and shutting down their manufacturing facilities as they start to lose money.

Approximately 81% of Winner Medical's sales come from export sales denominated in currencies other than the RMB. During the fourth quarter, the RMB appreciated relative to the U.S. dollar.

Under these pressures, Winner Medical is increasing its selling prices to its customers to pass along raw material cost increases. While this will benefit operating results, there is a time lag for these increases to be passed on which will impact net income in the near term.

PurCotton Business Update
Preliminary PurCotton sales grew 35.4% during the fourth quarter to $3.1 million and benefitted from increased sales at the Company's PurCotton chain stores and from jumbo rolls sales to customers in China and Japan.