Cinte Techtextil attracts a chart topping 18,058 visitors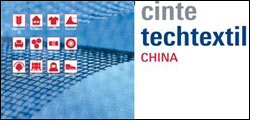 Cinte Techtextil China, Asia's top biennial trade exhibition for technical textiles and nonwovens received an astounding 18,058 visitors from 59 countries and regions when it took place at the Shanghai New International Expo Centre, from 19 – 21 October 2010. This was a phenomenal 41% increase in visitor attendance from 2008.

On 12,000 sqm of trade space 320 suppliers from 21 countries and regions showcased their latest range of nonwoven products, precision needles, technical textiles, technical yarns, textile machinery, twisting and cabling systems, winders and woven products. International exhibitor participation was proportionally high at 41%, with companies from Belgium, Canada, France, Germany, Italy, Portugal and Taiwan grouped together under special pavilions.

"The enormous success of Cinte Techtextil China is indicative of the quality and reputation of the Techtextil brand and the growth potential of the developing technical textile market in China," said Ms Wendy Wen, Trade Fair Director for Messe Frankfurt (HK) Ltd.

"The show surpassed our expectations. From being here, we have got a better idea of our market positioning. We have made contact with potential new customers from Eastern Europe and North America. Plus, we have found possible suppliers of standard and new fibres. We also saw for the first time kevlar and ceramic yarns, the functionality and durability of these products was most impressive," said Mr Gonzaga Oliveira, Manager for Artefita Industria de Passamanarias Lda from Portugal.

Same for first time exhibitor Kordsa Global from Turkey, the company had successfully expanded their business network at the show. "It has been an excellent experience. We have obtained solid leads for new business and strengthened our customer network," said Ms Cagla Aktas Aytore, Marketing Communications Specialist from Kordsa Global.

Many exhibitors also rated the fair as an ideal platform to launch new products. One of them was Sahm Winders + Systems, the market leader of automatic winding machines for high performance fibres in Germany.

"As the most important technical textile trade fair in the region, there was no better place to launch our new single end PVC coating line here at Cinte Techtextil China. Combining the best of German and Asian technology, the new line was well received, especially by Asian buyers," said Ms Bena Manasieva, Area Sales Manager for Sahm. The company developed the new product with their Taiwanese partner Rai Hsing Plastics Machinery Works Co Ltd, specifically for the Asian market.

Chinese suppliers were equally impressed with the significance of the show. "For us, this is a must-attend event, I have met with many of our existing clients. There are plenty of business opportunities in China as currently the production of technical textiles in this country is relatively low, which means the room for growth is huge," said Ms Ou Pen, representative from Xinhua Share Co Ltd Fujian.