Improving cotton productivity a key concern, industry leaders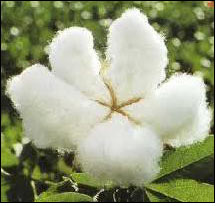 Participants of an opinion-formation seminar have evolved consensus that improving cotton productivity is a key concern for all members in the cotton value chain.

The seminar held at the All Pakistan Textile Mills Association (APTMA) Punjab office, organized by the Pakistan Cotton Forum (PCF). Secretary Agriculture Punjab Dr Arif Nadeed and Agriculture Research and Advocacy Centre (ACAC) representative Muhammad Ahsan Rana made detailed presentation and answered the queries of stakeholders from textile industry, cotton farmers, ginners and cotton traders. Chairman APTMA Gohar Ejaz was also present on the occasion.

Presentation in the backdrop of the Punjab government's negotiations with Monsanto, a global leader in biotechnology and cotton seeds for introduction of new technologies and improved seed in the province of Punjab.

The seminar covered the areas including introduction of insect resistance and herbicide tolerance technologies, research collaboration between Monsanto and Pakistan Research Institutes, capacity building of local seed companies and technology fee payment by the Punjab government for any unauthorized spread off Monsanto's proprietary technologies.

The presenter Muhammad Ahsan Rana stressed the point that pests, diseases, water scarcity, inadequate seed provision system are though not unique to Pakistan but still no systematic efforts are made to avoid them in Pakistan cotton economy. Lack of professional seed industry is major factor behind this loss in PK.

He said there is an urgent need to develop R&D and support development of a professional seed variety acquire latest technology for improve produciton to remove these constraints. Further, he said, developing strategic partnerships with the private sector and international institutes will overcome these constraints.

He said Monsanto is the company which has practical solution to Pakistan problems in cotton economy. Pakistan would gain legal access to Monsanto technology through these negotiations. Monsanto partnership offers opportunity to get connected with technology pipeline, he added. According to him, transformation of the local seed industry is another area of benefit. He said it offers opportunity for research collaboration with Pakistani institutes for solutions to Pakistan-specific problems.

Available technology products in the market including Monsanto's single-gene Bt, CEMB single-gene and double-gene Bt, Chinese fusion gene Bt and double-gene Bt, Monsanto's double-gene Bt (BG II), Roundup Ready and Roundup Ready (RR) Flex and BG II x BR Flex Stack.

Agriculture Secretary Punjab Dr Arif Nadeem said the negotiations are also focusing on availability of drought resistance variety from Monsanto by 2018. Further, he said, the Punjab government was planning to bring more area under cultivation through technology advancement in cities like Hafizabad, Narowal and Sargodha.

We are focusing on 6 to 8 million acre area growth under this approach, he said, adding: "Huge advantages we are looking forward with technology advancement in cotton economy.