Unavailability of Indian cotton adds to woes of our textiles: President, BCA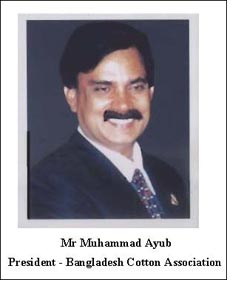 Industry's white gold 'cotton' has been talk of the town longly. One after other related trade policies and prices issues make-up current cotton market milieu. The story goes same for cotton sector in Bangladesh too. With a goal to bring out to date picture in the sector, News team at Fibre2fashion met up with Mr Muhammad Ayub, President for Bangladesh Cotton Association (BCA).

Exchanging greetings with the gentleman, we set up for the colloquy further, and requested to update us on movements in world cotton market. The veteran said, "Cotton season for year 2009-10, as we all know, per se, has been full of upheavals. The season has marked a shortfall of about three million metric tones of cotton around the world. Considering world cotton production and consumption, before 2009-10 season ending stocks were somewhere around 12-13 million metric tones, and the world consumed three million metric tones more than what it produced. To add to this, the episodes of the Indian Cotton Ban policy, Pakistan floods compounded with Chinese bad crop, has triggered the market in an unprecedented upward move and recorded all time high prices in the history, I have ever seen."

Our next obvious question was how Bangladeshi cotton market has been making the headway in the wake of such situation world over. He specified that as a non-cotton growing country this did not bode to be good news for Bangladesh as its textiles sector depends highly on imported cotton.

We headed for another point of interest for our valued visitors (who are always on our mind), and inquired about the cotton export/import facts. The president described, "So far the import of cotton to the Bangladesh market is shared by five dominant countries, namely Uzbekistan, India, USA, Pakistan and Australia. Until 2008 Uzbekistan had maintained a dominant market share. Since then, the market has been getting more competitive, and every economy tried to consolidate its position in our cotton market. If we look back in 2005-06 season, Uzbekistan's share was 65% and Indian share was 10-12%. It is interesting to note that Uzbekistan started losing its share to India in 2009-10. As of August 2010, Uzbekistan barely managed its 41% share, where as, India maintained a commanding share of 29%. If there were no bans on cotton export in last April, India`s share may have exceeded Uzbekistan`s share." –he went little comparative.

This invoked another query from us, if recent prohibition of cotton yarn exports from India also impacted the business there. Mr Ayub clarified that Bangladesh is more concerned about the Indian raw cotton than yarn. "There is no denial of the fact that unavailability of Indian cotton yarn has pushed our spinners in a very bad situation as their contracted quantities were not shipped by the Indian shippers. In some cases Letters of Credit were opened against the contracted quantities which were delayed. Apart from the export oriented spinners local yarn suppliers are using Indian growth," he however agreed.