OEKO-TEX audit highlights lot of new ideas for V. FRAAS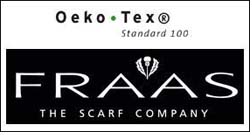 At the end of the year, and in keeping with the winter season, auditors of the Hohenstein Textile Testing Institute visited the world's largest manufacturer of scarves, V. FRAAS in Wüstenselbitz (Oberfranken). V. FRAAS is the market leader in the production of scarves and textile accessories. Its main business consists of the contract manufacture for labels ranging from BOSS to Tchibo. In addition, the company also designs its own pieces under the FRAAS brand - The Scarf Company.

Scarves are just as finely woven fabrics as the test and certification system for OEKO-TEX Standard 100. And both are being further developed on a permanent basis. Since 1 April 2010, the companies that have joined the OEKO-TEX Association are not only benefiting from the annual redefinition of current limit values for harmful substances, but also a new important OEKO-TEX building block: binding company visits conducted at all certificate holders at three year intervals, which are designed to offer concrete assistance with the implementation of harmful substance specifications and quality assurance.

"At V. FRAAS, we stand for scarves and textile accessories like no other company. We take the view that the more a product comes into contact with skin, the more it must be able to meet more stringent ecological requirements. Therefore we place great emphasis on ecological and ethically respectful production practices, as confirmed by our OEKO-TEX certifications, among others", explains one of V. FRAAS' three managing directors, Andreas Schmidt.

Accordingly, OEKO-TEX auditors Anke Rühl and Verana Lapp were quite impressed, not only with the high quality standard and luxurious materials processed at V. FRAAS, but also the company's key figures. The numbers of scarves alone, which leave the company's weaving, double rib looms and knitting machines every year, total approximately 10 million pieces.

The OEKO-TEX auditors spent an entire day at this family-owned company with an almost 130-year history and 600 employees worldwide, which processes more than 1,000 tonnes of yarn into high-quality accessories such as scarves, shawls, caps, mittens or capes annually. An introductory company presentation, a tour of the company which took several hours, a visit to the production area and the weaving preparatory area, weaving mills and piece dying and a visit to the yarn warehouse and shipping department provided the auditors with insights into the company.

It also made it possible to arrive at more precise assessments regarding the specifications for the required OEKO-TEX testing during subsequent discussions. The auditors were able to directly assess and address advisory services in view of the testing requirements, as well as possible combinations of test samples and cost savings for the company.

This visit was successful in fully meeting its objective - namely to utilise the new OEKO-TEX certification building block of individual audits to transfer the scientific way of thinking of the Hohenstein Textile Testing Institute directly to the manufacturing companies.