Technical textiles – A market with enormous potential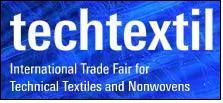 Technical textiles are nowadays used for a broad spectrum of applications, from protective clothing to insulation material for buildings. The technical-textiles sector is one of the most innovative branches of industry in the world and, according to analysts, ranks as one of the five high-tech sectors with the greatest potential for development. At present, the global market for technical textiles is worth around US $ 127 billion (approx. € 97 billion) whereby Asia leads the world in terms of textile consumption with 8.5 million tonnes followed by the USA and Europe with 5.8 and 4.8 million tonnes respectively.

In Germany – in this field, the world's leading nation alongside the USA – the share of technical textiles in total textiles sales currently amounts to approx. 52 percent. Technical textiles are primarily made and processed for the 'Mobiltech' (22 percent), 'Indutech' (18 percent), 'Buildtech' (10 percent) and 'Protech' (10 percent) areas of application. This weighting is valid for the whole world except that, according to the Association of the Yarns, Woven Fabrics and Technical Textiles Industry, the share held by the 'Mobiletech' area of application rises to no less than 28 percent.

Technical textiles are so versatile and can be used for so many different areas of application that, to offer a better overview, they have been divided into nine product groups and twelve areas of application such as 'Buildtech', 'Geotech', 'Mobiltech' and 'Sporttech'. This nomenclature was developed by the organisers of Techtextil, the leading international trade fair for technical textiles and nonwovens, in cooperation with the exhibitors and is used by the entire sector today.

The primarily reason for the success of technical textiles is the innovativeness of woven, knitted and nonwoven fabrics, especially in combination with each other because around 70 percent of all technical innovations are dependent on the qualities of the materials used (Allianz Faserbasierte Werkstoffe Baden Württemberg, AFBW, 2010). Another very important aspect for the huge economic potential offered by functional textiles is the great importance given to diversification in research to promote the discovery and implementation of these innovations.

Innovations as driving forces of growth
Carbon and ceramic fibres are considered to represent the most innovative field of research at present. The unique qualities of these materials – great rigidity and tensile strength coupled with extraordinary lightness – mean they are an important element for tomorrow's lightweight structures and open up a very broad spectrum of possibilities. A recent example of the use to which these fibres can be put is the Airbus A 380. Parts of the fuselage and wings of the world's biggest airliner are made of carbon-reinforced plastic, which meant a weight-saving of around 30 percent.

Thanks to their specific properties, reinforced textile fibres also contribute to the efficiency and reliability of rotor blades of wind turbines. And, for a new bridge, the approx. 60 tonne slabs were reinforced by 1,400 square metres of interlaid scrim consisting of glass-fibre bundles impregnated with epoxy resin. The result is a construction that cannot corrode and will last longer.