Lakshmi Caipo delivers 100th slub yarn attachment to Shanmugavel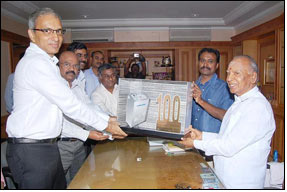 Lakshmi Caipo delivers 100th Slub yarn attachment to Shanmugavel Group. Over 240,000 spindles running with Lakshmi Caipo slub attachments in India

During that time, India was not represented in the global map for slub and core yarns and the percentage of slub yarn produced in India was negligible. Lakshmi Caipo was formed to offer world class technology at competitive prices with customized service to the Indian market.

With the extensive promotion undertaken by Lakshmi Caipo on the need for value addition in the spinning stage itself and a quick pay back for the spinners, the demand for slub attachment caught on like wild fire and generated a great deal of interest with the spinners.

Till then the technology level of the indigeneous manufacturers were not upto the mark and the imported systems were very expensive and unaffordable. This created a perfect platform for Lakshmi Caipo. In a short span of 3 years, Lakshmi Caipo was able to revolutionise the fashion yarn market in India.

Lakshmi Caipo Industries limited has achieved a mile stone of crossing 100 nos of Slub attachment sales in India in a short span of 3 years. The 100th machine was delivered to M/s.Sri Velayuthaswamy Spinning Mills Pvt Ltd, Dindigul, which is part of Shanmugavel group. Lakshmi Caipo Slub attachments has it presence in all major textile groups like Vardhman, Abhishek, GHCL, Precot , Garg Acrylic, Nahar, Winsome etc. The population of Lakshmi Caipo Slub attachment crosses 240,000 spindles which produces around 5000 tons of Slub yarn every month.

Lakshmi Caipo organized a function at Shanmugavel group , Dindigul for handing over the 100th attachment. A momento was presented to the Chairman of Shanmugavel group where the 100th Lakshmi Caipo attachment is running. The Momento was presented by Mr.Ravi Sam – Lakshmi Caipo Director.

A presentation was made to the technical team on the potential of slub yarn in the global market. The Management was very happy with performance of Lakshmi Caipo slub attachment and market feed back of the slub yarn made out of Lakshmi Caipo slub attachment.

Opportunities for value addition at spinning stage
If you want to value-add your textiles and clothing production, do not stop with applying new fabric patterns or innovative garment designs... or with just new colour forecasting or product marketing formats.

Look back along the production value chain. You might discover value addition scope opening up at the yarn stage.

One such value addition in cotton yarn production that has begun to sway the yarn market of late is the rediscovery of `slub' yarn or the `effect' yarn, as it is technically called in the trade.

There are endless uses of slub yarn in our life, Slub yarn are used mainly in fashion industry, ready made garment industry, high-end shirting materials, value-added knitwear, home textiles, woolen knitting industry, Furnishing industry and handicraft industry etc for creating eye catching designs in fabrics and other end products. Some of end products images are given below for your information.