Gujarat turns into textile sector investment destination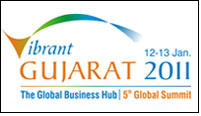 The fifth edition of the Vibrant Gujarat Summit held in Gandhinagar was a stupendous success having generated investments totaling to a mind-boggling Rs 20.83 trillion (US $450 billion) having inked 7,936 MoUs.

The previous edition of the summit held around the same time in 2009 had resulted in about 4,000 MoUs, attracting investments worth $243 billion.

The 2011 Vibrant Summit attracted investments amounting to around Rs 252 billion in the textile sector. In all 139 MoUs were inked at the 2011 summit. All this in turn is expected to create employment opportunities for a whopping 140,448 people.

The major portions of the investments were made in the spinning sector, followed by technical textiles and rest was accounted for by textile parks, fabric processing and apparel sector.

Speaking to fibre2fashion, Dr Chandan Chatterjee, General Manager (Project & Technology - iNDEXTb) and Director – The Centre for Entrepreneurship Development (CED) said, "We are all very excited by the investment response received by the textile sector in Gujarat at the Vibrant Gujarat Summit – 2011 and this has come from entrepreneurs from across all parts of India".

For the uninitiated, textile contributes 6 percent of the total industrial production in Gujarat (organised sector), is the largest producer (35 percent) and exporter (60 percent) of cotton in India, has the 3rd largest denim production capacity in the world and largest in India (65-70 percent).

Textile and apparel sector is the largest contributor in Gujarat in terms of employment both in large and small sector, accounting for 25 percent employment generation in the state. This is in addition to employment in the rural areas connected to cotton cultivation.

Gujarat has a specific industrial policy for textile and apparel sector with a focus on cotton spinning, technical textiles and Textile & Apparel Parks. Policy provides additional interest subsidy and subsidy for Textile Parks over and above TUF Scheme of Union Ministry of Textiles.

Over 24-28 percent of fixed investment, production value and employment of Small Scale Industries (SSI) is from textiles sector. There is a presence of textile related academic institutes, which cater to the manpower requirement of this highly labour intensive industry.

The still nascent technical textiles sector is a key emerging area with over 860 units in Gujarat (as per Government of Gujarat's survey report). The Gujarat government is also taking a very big initiative in the all-round development of the technical textile sector.

The Government of India on its part provides margin money subsidy at 20 percent to powerloom units on investment in TUF compatible specified machinery subject to a capital ceiling of Rs 20 million.

It also provides 25 percent capital subsidy on purchase of new machinery and equipment for pre-loom and post-loom operations, handlooms/up-gradation of handlooms, testing and quality control equipments for handloom production units. It has also made a provision for 40 percent capital subsidy for construction of group work shed under Group Work Shed Scheme (GWSS) for powerloom sector.