Point Blank to show advanced ballistic systems at SHOT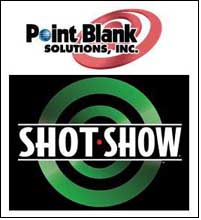 Point Blank Solutions Inc, a leader in the field of protective body armor solutions, announced that it will be introducing new armor systems for the domestic markets, all of which incorporate the latest in ballistic science and feature new designs that address comfort needs of officers and agents, while improving ballistic performance and protection.

These advanced solutions will be on display at Point Blank's booth (#5004) at the 2011 Shooting, Hunting, Outdoor Trade Show and Conference (SHOT Show), taking place January 18-21 at the Sands Expo & Convention Center in Las Vegas, Nevada.

"Significant enhancements in ballistic materials, coupled with our R&D, engineering and product design, have enabled us to develop new solutions for each of our domestic markets – law enforcement, federal and corrections, and for both concealable and tactical uses. We are aggressively looking to capture an increasing percentage of each of these markets, and at the same time, enhance officer safety through the best protective solutions in the industry," stated Michael Foreman, SVP of Sales and Marketing.

With more NIJ .06 certifications than any other soft body armor manufacturer in the industry, Point Blank Body Armor and Protective Apparel Corporation of America (PACA) continue to expand their respective offerings, among them, the new SABRE and Assault-One Plus tactical vests, as well as KXPIIIA Front Opening ballistic package, the only one of its kind currently available to the law enforcement market. Additional new product offerings include enhanced Spike Levels 1, 2 and 3 packages for corrections officers and Go Shield for crisis responders.

Conference attendees can view first-hand:

• PBBA's Single Action Ballistic Release Equipment (SABRE) vest, created specifically for the tactical needs of agents in high-risk situations. The vest features Point Blank's patented Self-Suspending Ballistic System (SSBS) which keeps ballistic panels securely and comfortably in place, as well as a unique single point release system for instant release and rapid reassembly.
• PBBA's Assault-One Plus vest, which is specially developed to enhance mobility, improve shooter accuracy and provide maximum load bearing capabilities. This military-grade vest can adapt to any tactical mission with split-second precision and is exceptionally lightweight.
• PBBA/PACA's KXPIIIA Front Opening ballistic package, which is designed for officers' most critical missions. Constructed of 100% DuPont Kevlar, the patented woven fabric technology consistently stops most bullets within the second or third layer of the ballistic panel. The new front opening feature allows for rapid donning and doffing – faster than existing release systems in the market.
• PBBA/PACA's Spike Level 1, 2 and 3 packages with enhanced technology and design for more comfortable and cost-effective protection. Corrections officers facing ever-volatile conditions andspecial threats can rely on a superior puncture and slash resistant system that offers exceptional comfort.