Handloom clusters ensure inclusive growth for weavers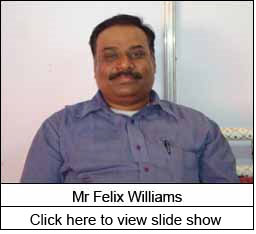 A "Handloom Clusters Expo – 2011" has been organised in Ahmedabad comprising of 20 handloom clusters from across the country. These clusters are from Uttar Pradesh, Tamil Nadu, Orissa, Andhra Pradesh, Madhya Pradesh, Bihar, Himachal Pradesh, Kerala, Manipur and Karnataka.

On display are a wide range of handloom cotton and silk products like dress materials, sarees, stoles, bed-sheets, shirtings and home furnishings. It has been organised under the aegis of the Development Commissioner (Handlooms) and the Entrepreneurship Development Institute of India (EDI).

The Fibre2fashion team visited the expo and met the Project Officer of the Cluster Development Program – Mr Felix Williams from EDI and a few of the master weavers to understand the progress made by these handloom clusters after the Union Textile Ministry sponsored cluster development program was initiated in 2006.

Informing about the progress from the beginning, Mr Felix Williams said, "The Development Commissioner (Handlooms) wanted to do a project for the sector, not on a service delivery basis, but something fruitful like a ownership based program, capacity building and basic issues like raw material supply, design and market development to be addressed.

"Since EDI is associated with other industrial clusters, we suggested the cluster approach to the DC (Handlooms) for the inclusive growth of the handloom sector. Cluster is a group of artisans or craftsmen hailing from the same geographical area, all engaged in the same trade, who face the same type of challenges.

"EDI conducted a diagonostic study of that area regarding supply chain, raw material availability, marketing, skill sets and many other issues which they face on a day-to-day basis, because of which they are not able to earn a decent livelihood. After completing the diagnosis, we prepared an action plan involving the stake holders and discussed the solutions.

"The major issues that we identified were supply of raw material, availability of quality yarn, outdated dyeing process, marketing and finally the supply chain. Then we launched the cluster project in 2006 by the name of Integrated Development Scheme. As a pilot project 20 handloom clusters from across India were identified in 12 states and experienced implementing agencies like EDI and others were selected to monitor the clusters.

"The project cost of a single cluster is estimated around Rs 20 million for a period of four years, which has been funded by DC (Handlooms). A cluster is made up of around 4000-5000 handlooms and these in turn form small Self Help Groups (SHGs) made up of around 15-20 handloom weavers.

"One of the components of the cluster scheme is capacity building in weaving, improving dyeing facilities, managerial training and providing business development knowledge to the weavers. The second component is setting up Self Help Groups (SHGs) and consortiums amongst weavers and a producer company. The third component is building infrastructure like a Common Facility Centre (CFC) and dye houses.