Natural skin flora unaffected even after long periods of wear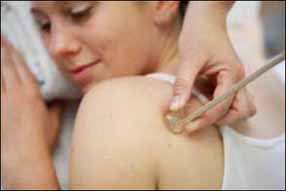 In recent years, antimicrobial textiles have become enormously important, whether in the field of technical textiles for preventing infection, medical/therapeutic clothing to help in the treatment of atopic dermatitis or anti-odour treatments for sportswear and clothes for outdoor activities. Most of the antimicrobial garments on the market at present contain silver.

Even though silver has a very good image and has been used for decades with no problem in other areas such as for treating drinking water, purchasers of antibacterial clothing have been confused by, in some cases, highly controversial debate and reporting in the media. What's more, until now there has been no scientific research into the question of product safety, especially with regard to the possible negative effects on skin flora and the skin's microclimate.

Particularly where antibacterial chemical fibres are used in clothing worn next to the body, such as underwear, users have so far been very sceptical. Until now, there had been no scientific study of this question of safety. In a research project that has now been completed (AiF No. 15537 N), financed by the Federal Ministry of Economics and Technology (BMWi) via the Federation of Industrial Research Associations AIF, Hohenstein researchers were able to investigate this subject in a large-scale field study.

A total of 60 healthy volunteers took part in this trial for a period of 6 weeks. Special Tshirts were made for the survey, with an antibacterial treatment on one side (verum), while the other half served as a non-antibacterial placebo. For comparison purposes, researchers studied the effect of both an antibacterial spinning additive (polyester fibres containing silver) and an antibacterial finishing treatment containing silver.

Before the survey, the antibacterial activity in the samples was tested in the laboratory using test bacteria such as Staphylococcus aureus and Klebsiella pneumonia. Then the T-shirts had to be worn by the volunteers every day for at least 8 hours for a period of 4 weeks. Various parameters for the skin flora and microclimate were investigated each week. For the entire period of the trial, the health of the volunteers in this placebo-controlled, intra-individual right/left survey was monitored by a dermatologist and the test sites on the skin were dermatologically assessed.

At the beginning of the trial and during and after the series of tests, researchers identified the types of skin bacteria that were typical of each of the volunteers' natural skin flora. At no time did any pathogenic bacteria occur. The individual differences between the volunteers were all within a normal range when compared with data on skin flora in the literature.

No effect by the textile fibres on the skin flora could be detected neither in individual volunteers nor when the whole group or parts of it were considered. The results of this field study therefore confirm the data in the literature which suggest that healthy human skin flora are very stable.