ATIRA - Premier textile research institute takes big leap forward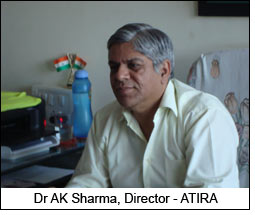 Ahmedabad Textile Research Association (ATIRA) – the Ahmedabad-based premier textile research and testing institute set up way back in 1949 is mulling a big-jump in providing services to the Indian textile industry.

ATIRA was especially established to help the Indian textile and allied industries, more so its members organizations to become internationally competitive. ATIRA has been now designated as a "Centre of Excellence" in technical textiles by the government of Gujarat.

Among the valuable various initiatives ATIRA has provided to help the textile-value chain in the past few years, is in the modernization process of around 450 cotton ginneries. Between 2005 and 2006, an ATIRA project also helped ginneries improve realizations between 0.5 percent and 1.0 percent. This when seen in the correct perspective is a very big figure considering the huge volumes processed by individual ginneries.

The institute has also helped reduce power consumptions by 10-20 percent in cotton ginneries. In another project undertaken by the premier institute, gin productivity has increased by 25 percent by carrying out modernization of equipment. ATIRA has also helped reduce trash in Gujarat deshi cotton by 40 percent.

It had developed a prototype of a moisturizing system of cotton, which will help maintain correct and uniform moisture permissible in the cotton bale. It is now in the process of setting up a pilot plant for the same.

During the cotton marketing season, ATIRA on an average, tests around 50,000 samples of cotton and provides online results. It is one of the biggest sources of revenue for the autonomous body.

It also set up a ginning service centre which created training manuals and provided training to employees of ginneries. This resulted in ginning productivity shooting up by 25-30 percent for the gins which participated in the program. In all, it conducted 40 batches with over 1,000 people participating in the training program.

These facts were revealed in a chat with the dynamic Director of ATIRA – Dr AK Sharma, who has changed the image of ATIRA from a just a cotton testing centre to an institute which is now providing value-added services to entire cotton seed processing chain.

Providing more details Dr Sharma said, "We are planning a skill development program across the states of Gujarat, Maharashtra and Madhya Pradesh for around 7,000 ginning industry staff and workers". He emphasized by saying, "Only ATIRA has the requisite skills and wherewithal to conduct such a program".

"Ginning is only one area of this program. We will be covering the other sectors across the textile-value chain and in all, the skill development program will cover around 70,000 employees across the textile industry", he noted by saying.

Speaking about the burgeoning field of technical textiles, he informed, "We were the first institute to start a technical textiles testing laboratory. Amongst many activities, we provide testing services for protective textiles, that too as per the latest standards. This division is also a very big source of revenue for ATIRA".