Techtextil India, must-attend business event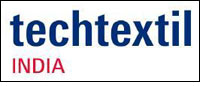 The third edition of Techtextil India - International Trade Fair for Technical Textiles and Nonwovens will be held from October 10 – 12, 2011, at the Bombay Exhibition Centre, Mumbai, and all indications are that the event will supersede the highly successful editions in the past.

The first edition of Techtextil India in 2007 set astonishing records for business and it provided the first ever international platform for the technical textile industry in India. The second edition in 2009 showcased 110 exhibitors and a grand total of 6339 visitors from 79 countries, proving that this event is the single most important textile event on the subcontinent. With strong indications of economic revival in the textile industry, the third edition of Techtextil India will once again provide an excellent trading platform for both the Indian manufacturers and international visitors.

Technical textiles are the emerging area for investment in India. The Technical textiles industry in India is a value added industry which has numerous end use applications in the areas of economic activity such as construction, sports, defence, medical, aerospace and agriculture. This industry has immense potential in the developing countries.

According to analysts, the real engine of world growth in the end-use consumption of technical textiles lies in Asia and the fastest growth prospects appear to lie in markets like China, Japan, Korea, Taiwan and other developing countries. India in particular has a great potential to make an impact in this industry and can emerge as a key player in the technical textiles industry, considering its highly skilled and scientific/technical manpower and abundant availability of raw materials.

Since the Indian technical textile industry is import intensive, it provides a base for a very interesting market for export oriented manufacturers from Europe and elsewhere. The current size of the technical textiles market in India is estimated around US $9.4 billion and it is expected to grow at a rate of 11% annually. The Textile Ministry expects the technical textile industry in India to reach a size of around $16 billion by 2012-13. India is the second largest textile economy in the world after China.

To give a boost to the Indian technical textile industry, the Government of India has taken up various initiatives for augmenting growth in this sector, making it more attractive for the global markets. In January 2011, the Ministry of Textiles launched its five year technological mission on technical textiles (TMTT) and will invest US $40 million for this mission.

Techtextil India will offer international manufacturers an ideal business platform to showcase their products, all the while providing an opportunity for joint ventures. "The 3rd edition of Techtextil India will take place at the right moment: the international economy and technical textiles industries are recovering respectively, even growing their business again. India was and is getting more and more in focus regarding the potential for technical textiles.