Polyester & ePTFE based graft receives European CE Mark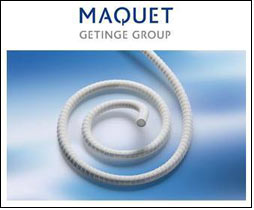 MAQUET Cardiovascular announced that it has received European CE Mark approval for its FUSION BIOLINE Vascular Graft, which is indicated for use in patients with peripheral artery disease (PAD).

Unlike traditional vascular grafts that utilize a single material, the FUSION Vascular Graft is a synthetic graft constructed of two layers -- an inner layer comprised of extruded, expanded polytetrafluoroethylene (ePTFE) and an outer layer comprised of a PET knit polyester textile. These two layers are fused together with a proprietary polycarbonate-urethane adhesive.

This unique two-layer construction delivers patient benefits both during and after surgery, including axial compliance for better handling compared with standard ePTFE grafts; high suture retention strength and durability for long-term performance; and minimal suture hole bleeding for improved hemostasis. FUSION BIOLINE builds upon this platform with the addition of a heparin-based BIOLINE coating on the inside of the ePTFE layer of the graft.

BIOLINE coating, which has been used successfully on MAQUET's cardiopulmonary product line since 1995, combines a layer of albumin, the main blood protein, with heparin, a substance widely known as a safe and effective anti-thrombogenic. This coating is designed to offer the anticoagulant properties of heparin on a peripheral bypass graft. BIOLINE coating on MAQUET's cardiopulmonary products has demonstrated a reduction in clotting activity and a reduction of platelet adhesion and thrombi creation.

"The new FUSION BIOLINE vascular graft combines the benefits of polyester and ePTFE grafts, which include no suture hole bleeding and improved graft patency due to the inner heparin coating," said Afshin Assadian, M.D., Head of the Department of General and Vascular Surgery at Wilhelminenspital Vienna in Austria. "The combination of these two graft materials, together with the benefit of offering a product with heparin coating, takes vascular grafts to the next level. I expect it will result in improved long-term graft patency and optimal patient satisfaction."

An estimated 6 million adults in Europe are affected by PAD, a condition of the blood vessels that leads to narrowing and hardening of the arteries that supply the legs and feet and may threaten the function and integrity of a limb. Patients with severe PAD may require peripheral artery bypass surgery of the leg, in which a vein from another part of the body or a synthetic graft is used to bypass blockages and restore blood flow.

"By adding the benefits of heparin to the unique FUSION hybrid construction, the FUSION BIOLINE graft sets a new standard for peripheral bypass grafting," said Bodo Anders, President of MAQUET Cardiovascular's Vascular Interventions Business Unit. "We look forward to commercializing this innovative graft in Europe, which continues our longstanding tradition of providing advancements in surgical grafts to cardiothoracic and vascular surgeons to benefit their patients."