Information about Oeko-Tex in Bhilwara, successful seminar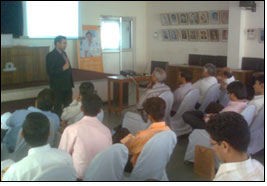 In view of growing demand for skin-friendly textiles and hence the increase in demand for Oeko-Tex Standard 100, the Ahmedabad office of Hohenstein India Pvt. Ltd. organized an information seminar on Oeko-Tex certification on 9th March, 2011 at Mewar Chamber of Commerce & Industry, Bhilwara.

Entrepreneurs, Managers from QC and Marketing departments of the textile industry, spinning, weaving, processing, home furnishing units, dyes & chemical companies etc. had assembled and took an active participation in this program.

Oeko-Tex Standard 100 is a product certification that concentrates on human ecology part of textile processing and products. The Oeko-Tex label contains the wording- Confidence in Textiles- Tested for harmful substances. This provides peace of mind to consumers and is an active decision making tool for a large number of overseas buyers.

Oeko-Tex standard 100 Certification is applicable for all types of textile items including fibre, yarn, fabric, garments, home textile items, accessories like sewing threads, embroidery yarns, wash-care labels, buttons, zippers, interlining fabrics, buckles etc. For dyes and chemicals, there is a different certification known as Eco Passport.

Hohenstein India Pvt. Ltd. is a subsidiary of Hohenstein Institutes, Germany and the official representative of International Oeko-Tex Association in India. Hohenstein is a research institute having versatile facilities for testing, evaluation, research, inspection, auditing, certification etc. for a wide range of products and services in Textiles like fibres, garments, home-textiles, accessories, dyes/chemicals, technical textiles etc.

The basic objective behind organising this seminar was to create more awareness about this standard, its importance, benefits etc; giving the correct information to the participants and clearing doubts and misconceptions. The seminar also spread information about various services provided by Hohenstein mentioned above.

The Branch Manager for Ahmedabad office, Mr. Sumit Gupta (Asst. Manager Technical Compliance) presented the details about Oeko-Tex testing and the technicalities involved in the testing and certification. The test criteria, limit values, requirements as well as the impact of Oeko-Tex certification on international business were also discussed in details.

It was highlighted that Oeko-Tex test criteria also complies with the relevant chemicals listed in Annexure XVII of REACh. Since Oeko-Tex certificate is considered necessary by various European and American buyers, the Oeko-Tex label is an ideal marketing tool for all who need to market their products to Europe and the USA.

Mr. Vinay Chavan (Marketing Executive) provided comprehensive information about the history and philosophy of Hohenstein Institutes. Hohenstein Laboratories have different facilities available in various fields. Chemical testing, clothing technology (fit & workmanship), consumer tests, function and care etc. are some of them.