ITG and Alexium sign MOU for product development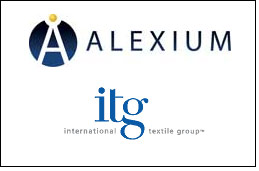 Alexium International Group Limited announced the signing of a Memorandum of Understanding Agreement with the International Textile Group (ITG). The Agreement sets out terms for ITG and Alexium to work collaboratively on several product development initiatives and establishes ITG as Alexium's preferred fabric supplier to satisfy current and future bids in commercial and defence markets.

ITG is an industry-leading fabric manufacturer and finisher with worldwide operations, including Burlington Worldwide, Carlisle Finishing, Cone Denim & Decorative Fabrics, Narricot, and Safety Components. ITG and subsidiaries shave operations in United States, Mexico, China, Nicaragua, Vietnam and India.

Alexium has successfully demonstrated the performance and advantages of its Reactive Surface Technology RST (Reactive Surface Treatment) in a number of applications and is currently involved in several ongoing demonstration projects for commercial and defence customers. This agreement with ITG will leverage capabilities and resources, and accelerate the adoption rate of RST technology in the textile market.

Stefan Susta, Executive Director and COO of Alexium International noted, "In addition to being a well-established worldwide supplier of quality fabrics, we view ITG as a strategic partner for developing new product lines that incorporate RST (Reactive Surface Treatment) technology, ultimately leading to a licensing deal. We see a lot of synergy between the two companies moving forward, and appreciate their interest to develop innovative products with our process."

Alexium's patented RST (Reactive Surface Treatment) technology is a protective treatment that can be applied to apparel and other textiles to provide multifunctional properties such as chemical and biological protection, flame retardance, water proofing and oil repellency.

Alexium has recently signed a MoU with Bruck textiles to partner in the Australian market and is working with SSM Industries in Tennessee, a leading supplier of flame retardant apparel, under a license option agreement. Alexium continues to be actively involved in US Department of Defence tenders in the area of specialty protective apparel and recently partnered with ITG in a bid to supply the outer shell fabrics for the Uniform Integrated Protection Ensemble program, a lightweight chemical/biological protection suit for the US Department of Defence.

Alexium International Group Limited holds proprietary patent applications for a process developed initially by the US Department of Defence , which allows for the surface modification and attachment of nano particles or multiple chemical functional groups to surfaces or substrates to provide functions such as water proofing, oil proofing, antimicrobial, non-stick and UV protection. Applications under development include but are not limited to textiles, paints, packaging, glass and building materials.

International Textile Group - International Textile Group Inc., majority owned by WL Ross & Co LLC., is a diversified textile manufacturer with 2008 annual revenues exceeding $1.0 Billion.