IKEA presents Sustainability Report 2010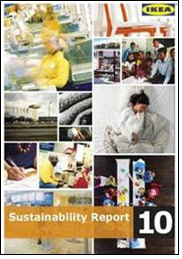 IKEA, the world's largest home furnishing retailer, has released its 2010 Sustainability Report (September 1, 2009 – August 31, 2010), which recaps and highlights its sustainable progress, accomplishments and new opportunities in the areas of social and environmental responsibility. The report describes the priorities for 2015 that influence the entire value chain from product design and development to the very end of a product's life as outlined in the new IKEA Sustainability direction.

"I'm proud to share with you some of the things that IKEA has accomplished so far together with our customers, co-workers, suppliers and partners such as WWF, UNICEF and Save the Children. Working together means that we can make huge contributions towards a more sustainable future," says IKEA Group President and CEO Mikael Ohlsson.

Highlights from the 2010 IKEA Sustainability Report

• PRODUCT SCORE CARD: The introduction of the IKEA Sustainability Product Score card. This is a new internal tool for more sustainable product development and purchasing that will help classify the IKEA home furnishing range within 11 criteria that have an impact on the environment.
• CERTIFIED WOOD: The share of certified wood increased substantially from 16.2 to 23.6 percent.
• RENEWABLE ENERGY: The number of IKEA buildings with solar panel systems nearly doubled, taking us one step further towards the goal of operating all IKEA units on 100 percent renewable energy.
• IKEA FOUNDATION: Decision made to invest an additional 7.5 million euro in UNICEF's water sanitation program in India. This support will help expand the scope of the program in 15 states.
• MORE SUSTAINABLE COTTON: More than 80,000 farmers in India and Pakistan are now using more sustainable farming practices. The share of more sustainable cotton in the IKEA range more than doubled compared to last year to 13.4 percent of total IKEA use.

"IKEA has laid a great foundation. Persistent, hard work within forestry and cotton cultivation is paying off. The IKEA Foundation helps us improve the lives of many millions of children in need, and the goal to use 100% renewable energy in all IKEA units is an industry-leading commitment," says Steve Howard, Sustainability Chief Officer IKEA Group.

Highlights From the IKEA US Sustainability FY 10 Report

• INCANDESCENT LIGHT PHASE OUT: IKEA announced in June 2010 that it would start to phase out the sale of incandescent light bulbs in all US stores, placing focus on selling a comprehensive range of energy saving bulbs including CFLs, plus LED and solar lamps.
• GEOTHERMAL TECHNOLOGY: IKEA US announced that the new store opening in fall 2011 in Centennial, Colorado will be constructed with geothermal technology. In support of this effort, IKEA has partnered with the US Department of Energy's National Renewable Energy Laboratory (NREL) to study geothermal efficiency in large-scale buildings. The study will also help IKEA to continue to make decisions that optimize efficiency and operations of IKEA building systems.