Textiles Committee conducts GI workshop on handicrafts at Ahmedabad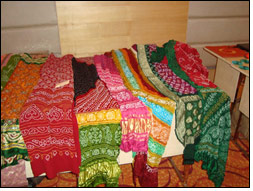 Geographical Indication (GI) is gaining tremendous importance and Textiles Committee of India has taken the lead in ensuring that heritage products like handlooms, handicrafts and other artisanal products are given their due recognition before they are lost in ignominy.

Today, Mr S S Gupta, Development Commissioner (Handicrafts) presided over the first workshop of the new financial year conducted by Textiles Committee, Mumbai at Ahmedabad. He stressed on the need for Indian, and Gujarat Handicrafts products in particular to go for GI.

In his address, Mr Gupta informed that Indian handicrafts industry was employing more than 17 lakh artisans and workers, and Indian exports stood at Rs 13,000 crores. He stated that besides economic upliftment, handicrafts industry promoted traditional culture and initiatives like GI would protect languishing crafts and generate employment opportunities.

Extending support to promote traditional crafts, Mr Gupta said his department would do all to enable crafts like Patolas, Bandhnis, Sankheda Furniture among others to get their due recognition under the post GI intervention programme of the Textiles Committee, Mumbai.

Mr A M Solanki, Secretary (Cottage Industries) Government of Gujarat conveyed that Gujarat has a rich heritage in terms of handicrafts like Patan Patolas, Surat Zari, Agate of Khambhat, Sankheda Furniture and Kutchi Embroidery that were now all registered for GI. He welcomed the Development Commissioner (Handicrafts) and Textiles Committee office bearers' efforts to support the cause and said that more products should be covered under GI and necessary action would be taken in this regards.

Welcoming all in Gujarati lingo to the surprise of all, Mr B Balamurugan, Member Secretary, Textiles Committee, Mumbai explained his organisation's activity as well as the importance of post GI initiatives. He reaffirmed the commitment of Textiles Committee to go for more products under the GI umbrella and contribute its mite towards promotion of such crafts hailing from all parts of the country.

In his introductory speech, Dr Paramanda Nayak, Director (Market Reasearch), the spirit behind the workshop explained the GI and post GI initiatives to the rapt audience. Citing the analogy of three legs of a stool, Dr Nayak explained the three important phases of the GI process - identifying a product; registration for GI and finally, documentation which was the most important step in the process under GI initiative.

He stated that GI was normally issued after 4-5 years in Europe and other countries where as in India, they were able to achieve the same in under six months period. So far 242 applications for GI have been filed from India while only 132 products have been registered. Textile products among them took the largest share at 24percent apart from textile related products at 11 percent, while handicrafts, agriculture and others stood at 17, 6 and 22 percent respectively.