New sensor system for cut-protection trousers prevents accidents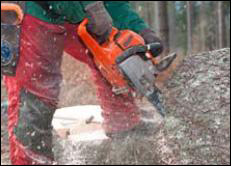 In future, working with power saws in the forest will be much safer, and more comfortable too. This is thanks to an innovative sensor system for cut-protection clothing, developed jointly by researchers at the Hohenstein Institute in Bönnigheim and the University of Bremen.

The principle of the system - affectionately christened "HORST" (from HOse meaning 'trousers' and fORST meaning 'forest') by the project team - is very simple, yet effective: if the power saw comes too close to the trousers, the machine is switched off before it even touches the fabric. At the specialist trade fair Techtextil/Avantex in Frankfurt, the novel system was awarded the 2011 Innovation Prize.

Special cut-protection clothing has been part of the legally prescribed personal protection equipment (PPE) for foresters for many years now. In Germany, about 25,000 people work professionally in forestry, about half of them in privately-owned woodland. However, conventional cut-protection clothing only provides its wearer with passive protection: the trousers and jacket incorporate cut-protection inserts consisting of several layers of special material made of ultra-strong fibres.

If the chain of the saw comes in contact with the textile, it becomes caught in the fabric and therefore stops before the wearer is affected. However, the multi-layered material results in greater thermal insulation which puts additional physiological stress on the wearer, especially at the warmer times of year.

By contrast, with the newly developed electronic protection system HORST, there is no contact at all, and the system kicks in before there is any risk of even the outer textile layer being damaged. The aim of the development work was to reduce the "passive" cutprotection layers to an absolute minimum and increase the "active" protection, so that the clothing feels lighter and has less of an insulating effect.

That makes it more comfortable to wear while simultaneously reducing the physiological strain on the wearer. "What was important for us was to improve the protection from cutting injuries while at the same time making the clothes as comfortable as possible to wear," says Angela Mahr-Erhardt, project leader in the Clothing Technology section of the Function & Care department at the Hohenstein Institute.

Magnets on the guide bar of the chainsaw and highly sensitive magnetic field sensors (reed switch contacts) incorporated in the textile fabric create a sort of protective electronic field for the forester. If the saw comes too close, the contacts in the trousers close due to the magnetic field from the chainsaw and a radio signal is sent which stops the saw immediately. Following trials, a minimum distance of 5 to 10 centimetres between the saw and the trousers was judged to be appropriate and practical. As the saw comes closer, it is detected extremely accurately and very fast. This means that, in real life, both the forester and his clothing would remain untouched.