WACKER showcases polymer binders at Index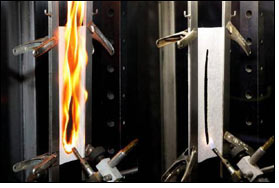 At INDEX 2011, the Munich-based WACKER Group will showcase a wide range of water-based polymer binders for coating and modifying high-quality textiles and nonwovens.

The focus will be on VINNAPAS and VINNOL copolymer dispersions based on vinyl acetate-ethylene (VAE) and ethylene-vinyl chloride (E-VC). The product portfolio ranges from binders for articles of everyday use, such as tableware, cleaning cloths or hygiene products, to fabrics for blinds and upholstery, through to dispersions for wallpapers and carpet tiles.

Among WACKER's tradeshow innovations are a novel hydrophobic dispersion for the manufacture of low discolorating nonwoven wall coverings and an innovative binder for flame-resistant textiles. INDEX 2011, a leading tradeshow for nonwovens, fibers and bonded fabrics, runs from April 12 to 15 in Geneva, Switzerland.

Water-based dispersions are an indispensable starting material in the manufacture of nonwovens and technical textiles. Articles of everyday use, such as vacuum cleaner bags, wet wipes, panty liners and materials for blinds, owe their very existence to high-performance binders. WACKER offers an extensive portfolio of technically mature and versatile VINNAPAS und VINNOL dispersions.

Low discoloring and Water Repellent: VINNAPAS LL 1044
At INDEX 2011, WACKER will premiere VINNAPAS LL 1044, a fast-self-curing VAE-based copolymer dispersion. Thanks to its hydrophobic properties, VINNAPAS LL 1044 boasts outstanding dry and wet tensile strength. The dispersion also shows high mechanical stability while retaining a pleasantly soft hand. Compelling properties of nonwovens and textiles manufactured with VINNAPAS LL 1044 are their minimal loss in brightness after drying and their high UV stability.

The dispersion is thus especially suitable for the production and further processing of nonwovens and fibrous materials where the end products must show as little discoloring as possible. Another advantage is that the dispersion is produced without the use of alkylphenol ethoxylates (APEOs), and contains very low levels of formaldehyde and vinyl acetate monomer (VAM).

The versatility of VINNAPAS LL 1044 is also evidenced by its broad range of applications: it can be applied equally well by spraying and impregnating as by foaming or roller application. VINNAPAS LL 1044 is thus an ideal binder for applications such as nonwoven wallpapers, textile wall coverings and technical textiles.

VINNOL CEN 2752
Another innovation at INDEX 2011 is VINNOL CEN 2752, an aqueous E-VC dispersion of a vinyl chloride - ethylene copolymer, used for coating modern textiles and nonwovens. The high proportion of vinyl chloride in the base polymer makes it especially suitable for flame-retardant finishing of textiles such as upholstery fabrics and sun-protection articles, e.g. sunshades and blinds, used in the domestic and commercial sectors.

The new dispersion adheres reliably and permanently to cellulose as well as to synthetic fibers and polyvinyl chloride (PVC) coatings. Furthermore, it has a high wet strength, a stable viscosity, and good wash resistance. The dispersion is easy to apply by a variety of methods, for example by spraying, impregnating or foaming. It can also be used for adhesive bonding of PVC to cardboard, paper and fiber materials.