The first separate Sustainability report by Clariant Ltd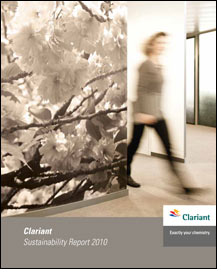 The Swiss specialty chemical company Clariant has published its 2010 Sustainability Report. Between 2005 and 2010, CO2 emissions decreased by more than 40%, energy consumption fell by 35% and water consumption dropped by 30%. The Global Reporting Initiative (GRI), a globally renowned, independent organization for sustainability reporting standards, performed a critical review of the report and confirmed adherence to application level A, its highest reporting level.

"Clariant sees this as an obligation to continue to work on the area of sustainability and to make improvements. We firmly believe that following the successful completion of our restructuring, profitable growth can only come with sustainability," said Hariolf Kottmann, Chief Executive Officer of Clariant International Ltd.

In the past, we have always informed you of our initiatives regarding sustainable management and responsible action in our annual report. This is the first separate Sustainability Report by the Clariant Group. After 15 years, Clariant can look back on a brief but successful company history. The recent past has been turbulent, marked by the financial crisis and a far-reaching reorientation of our Group.

The aim of the measures associated with these changes, which are now largely complete, was to create a sound operational and technological basis for future profitable growth. However, they were also intended to realign our company according to the criteria of sustainability and corporate and social responsibility. These aims are intrinsically linked. In difficult times in particular, companies that are sustainably managed and that act responsibly are proven to be more successful in the long term.

Our focus on innovation and environmental protection strengthens our financial sustainability. It also contributes to increasingly efficient use of raw materials and energy. Our internal processes are thus being optimized, while at the same time our customers are benefiting from tailored solutions in the Business Units. In this way, Clariant is helping to find solutions to the global challenges of our time, such as food, water, energy, climate protection and, finally, quality of life for an ever increasing global population.

In this report you will find a wide variety of data and facts as well as examples of products – ranging from ingredients for completely biodegradable cleaning products, new directions in leather processing to toxicologically safe flame retardants for smartphones.

The issue of sustainability is firmly anchored in our corporate strategy. Sustainability-based management improves our Performance and our competitiveness at international level considerably. At the same time, it strictly limits the burden on people, the environment and resources. The value that we generate through this also benefits our shareholders and meets the needs and requirements of the capital markets – which is truly a win-win situation for us all.