CB&I receives contract from Kazakhstan Petrochemical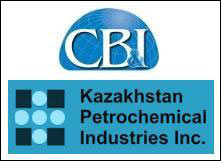 Chicago Bridge & Iron Company (CB&I) announced that Lummus Technology, a CB&I company, has been awarded a contract from Kazakhstan Petrochemical Industries Inc. LLP (KPI) for the license and basic engineering of a propane dehydrogenation unit and a polypropylene plant.

The two units, each with a design capacity of 500,000 metric tons per annum, are planned as part of KPI's gas processing complex to be built in the western Atyrau region.

The propane dehydrogenation unit will make use of the CATOFIN technology for conversion of propane to propylene. The polypropylene plant will use the Novolen advanced gas-phase polypropylene technology, which will enable KPI to produce a broad range of polypropylene products to meet the needs of both local and export markets. Both technologies provide high reliability and easy operability.

Propylene is a building block used to produce a variety of products including polypropylene, a plastic used for household goods.

Kazakhstan Petrochemical Industries Inc. LLP is a company registered under the laws of the Republic of Kazakhstan with the aim to develop and operate a world-scale gas-to-polymers complex in Western Kazakhstan.

Chicago Bridge & Iron Company N.V.