M/s BRFL installs Prashant Gamatex 1000th Sectional Warper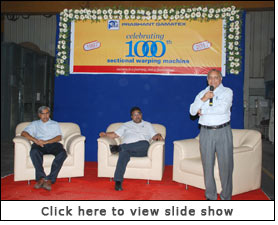 PRASHANT GAMATEX Pvt Ltd has achieved yet another landmark. The company's 1000th Sectional Warper has rolled out of their ultra modern plant at Ahmedabad to get delivered to M/s BRFL which is amongst India's largest vertically integrated textile group. A grand celebration was organised by PRASHANT GAMATEX at their facility at Ahmedabad to mark the despatch of their 1000th machine.

This function was attended by several eminent personalities from textile industry, certain key customers,agents and entire team of the company. Mr.Aman Agrawal, the executive vice chairman of BRFL was a guest of honour for the function. The machine being delivered to M/s BRFL is the 1st machine of the the prestigious order of 8 Nos. bagged by PRASHANT GAMATEX from M/s BRFL. The entire order is for the 'The Top of the Line' sectional warping machine model 'Lasertronic'. Some of the salient features of Lasertronic sectional warper are:-

• Online pitch measuring thr'u contactless "Laser" sensor
• Programmable leasing device
• Specially imported linear guide rail for smooth & jerk free movement of undercarriage.
• Kickback type feeler roller for making compact beams

PRASHANT GAMATEX is a group company of PRASHANT GROUP who is the No.1 manufacturer of weaving preparatory machinery and have been serving the global textile industry since 1987. According to Mr.Prakash Shah (the chairman & managing director of the group) the company's vision has been very clear ever since it's inception. "Serving textile Industry by providing world class technology at appropriate prices" has been company's philosophy.

"PRASHANT GAMATEX" is the 1st manufacturer in India to introduce FIXED CONE type high-tech sectional Warping Machine, under Technical Collaboration with M/s. GAMATEX s.r.l., ITALY."Since last 24 years, Our machines are working with all the leading textile units in India as well as abroad for manufacturing various types of fabrics like; Suiting, Shirting, Terry Towel, Silk, Furnishing Fabrics, Labels, Industrial Fabrics, etc. To-day, we have more than 1000 installations world wide" told Mr.Prakash Shah to the large gathering. Few of the esteemed customers of PRASHANT GAMATEX are.. Raymonds, Siyaram, Grasim, Alok Ind., Arvind, Vardhman, Nahar,Trident, Welspun, Nsl, Mandhana Etc.

The company has recently established a joint venture with the world renowned BROMAS s.r.l. of Italy to provide fully automatic new generation Sectional Warper ROBOWARP MB-3 which is an ultimate solution for medium & short warp requirement.

Their group Company M/s "PRASHANT WEST POINT" manufacture world class range of Sizing Machines and Warpers,Indigo Dyeing & Sizing, Rope Dyeing & Denim preparation equipment under joint venture with "M/s. WEST POINT INDUSTRIES, USA" who are the original inventor, and they are manufacturing Sizing Machines since last 75 years. PRASHANT WESTPOINT has a strong foothold in the Indian market with a wide customer base in Terry,Sheeting & Yarn Dyed Shirting segment.